Email Marketing in the Cloud – Used by Thousands of Businesses

Pinpointe On-Demand is the most feature-rich, cloud-based email marketing system available. Professional Edition includes everything you need to create, send, track and profit from email marketing – but it doesn't stop there. Pinpointe also includes powerful tools to completely automate your follow up marketing and customer feedback loops too. Full Feature Details>>

Pinpointe Professional Edition is ideal for businesses sending 5,000 to 350,000 emails / month with a single user login. All the features and great low pricing.

For customers sending more than 350,000 emails / month, check our Pinpointe Enterprise Edition>>

Sales Questions?

+1 800-557-6584 (US)
+1 408-834-7577 (International)
Email: Sales@Pinpointe.com
Design Emails and Newsletters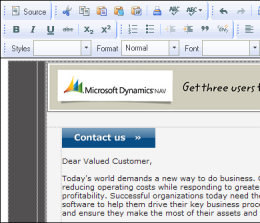 You'll be sending your first email marketing campaign within 30 minutes. Create a list, add optional fields, import contacts, create your email template with the WYSIWYG Email editor or upload an existing design, then send and analyze results.
Learn More >>
Maximize Response Rates
Pinpointe On-Demand gives you the features you need to maximize results. Behavioral targeting lets you select prospects based on actual, recent activity, while advanced segmentation features allow you to create segments based on any number of custom fields.
The Inbox Previewer lets you see exactly how your email will look before you send it and our free, built-in SPAM Checker analyzes your email for known spam phrases and shows you exactly what needs to be modified to reduce your spam score. Learn More >>
Manage Subscribers
Pinpointe automatically manages and removes bounced records and people who unsubscribe from your list, so you're free to focus on your email marketing programs instead of list management. Easily import/export data and statistics. We also de-duplicate your email addresses on import. Learn More >>
Statistics & Reporting
You've created and sent the perfect email marketing campaign, but how many people opened it and when? Pinpointe's statistics show exactly who opened your email and when. With Pinpointe you get detailed, real-time graphs on opens, clicks, unsubscribes, list statistics and much more, so you can analyze your campaign results. One-click Google Analytics integration helps you determine who visited your site as a result of your email campaigns. Learn More >>
Advanced Features
Dynamic Content Blocks. Dynamic content blocks allow you to personalize a section of your email messages based on custom field values.
Email Inbox Previewer. Our email previewer shows how your email will look in all of the popular email clients (Yahoo, Gmail, Hotmail, Outlook, etc).
Split Testing. Find out which of your email campaigns performs the best based on open rates and click-thru rates with split testing.
Drip-Marketing Campaigns. Create multiple autoresponder and trigger emails for each contact list. Triggers can also move contacts from one list to another, based on their activity.
Surveys & Feedback Forms. Use the drag & drop editor to quickly create a customized survey then link to it in your email.
CAN-Spam Compliance Features
We'll help to ensure your campaigns are CAN-SPAM compliant. If you forget to include an unsubscribe link, we'll insert one for you automatically. People who unsubscribe are qutomatically flagged so you can't accidentally re-send to them. You can even add 'Do Not Mail' suppression lists.
Finally, keep your list clean – we'll automatically generate a double opt-in email automatically when users sign up using Pinpointe's website integration.
Extensive Help and Support
All accounts include Pinpointe's responsive and helpful support:
24×7 Email Support
Live Chat Support
Extensive Knowledge Base
100+ How To Guides
210 Page User Guide
Phone Support (for Enterprise Edition Customers)