Video marketing is a hot trend right now. It's not necessarily new. After all, 30-second TV commercials started airing decades ago. But today's video marketing is different. It's shorter, more impactful and on platforms that didn't exist when Leave it Beaver aired.
There's a new era of video marketing and it's generating a lot of buzz. Research shows marketers who use video grow revenue 49% faster than those who don't, according to WordStream.
Given its profit and engagement potential, it's not surprising to see more marketers create videos for their customers. But, how can marketers incorporate their new love of video marketing with email?
In the past, video and email have had an oil-and-water-type relationship, they didn't mix. But, things are changing.
To help marketers, we've created a guide that covers the three most frequently asked questions about video in email.
Let's get started.
1. Can you embed videos in emails?

Yes, you can embed videos in emails, but that doesn't mean every subscriber can see them. It all depends on whether or not an email client, like Gmail, Hotmail or Outlook, can support the more recent video format, HTML5.
If HTML5 is supported, it will play within the email itself. If it's not supported, subscribers see what's called a "fallback image," which is a still image that looks like a video. It links subscribers to another website where the video can be played.
Here's a look at whether or not certain email clients support HTML5, as of December 2017: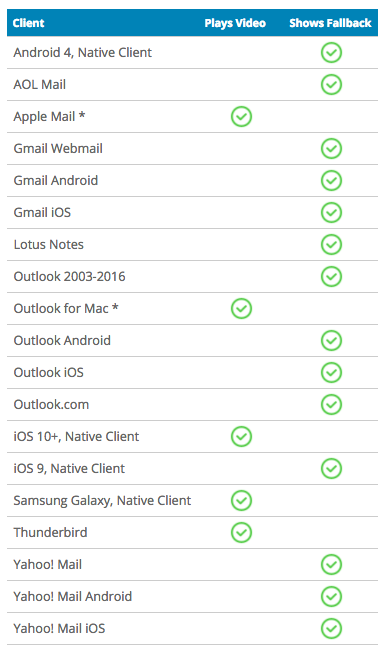 You'll notice there aren't too many clients that support HTML5. So, if there's limited support for HTML5, does that mean marketers shouldn't use video in emails? No. You just have to broaden your definition of video.
2. Besides embedding, how can you add video in email?

There are several ways that you can add video to your email without embedding it. Here's a look at three options:
Create an image that looks like a video

Rather than embed a video and hope it plays, you can create an image that looks like one. Take a look at the email below. It's a picture of Jessica Simpson with the play button. When it's clicked subscribers are taken to YouTube to watch the video.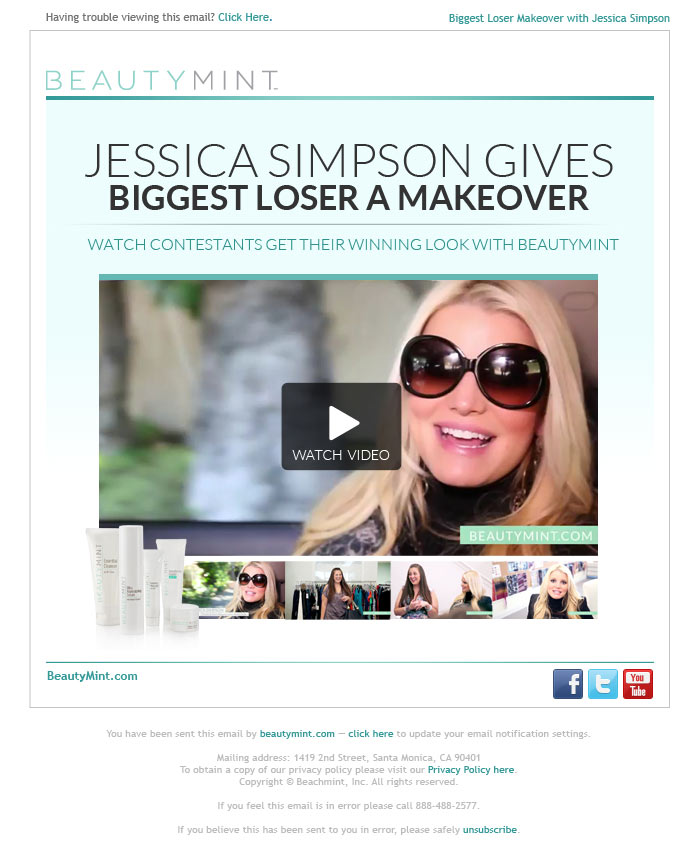 Technically, there isn't a video in the email. It's just a video image. By doing it this way, you don't have to worry about who can see it or not, because it's just a basic image like you'd include in any email.
Is it as cool as a video automatically playing inside an email? No, but if you host your video on YouTube (or any video player, really) you can set the video to autoplay. So, as soon a subscriber clicks on the image they're taken to the video and it starts playing instantly.
Opt for an animated GIF

Animated GIFs aren't the kind of traditional video you typically think of, but many marketers lump them in with video marketing.
An animated GIF is a picture that has a few frames of movement to it. The movement lasts for just a few seconds and then repeats. They've been around for a while. Remember the dancing baby? That was the world's first GIF. It came out in 1996.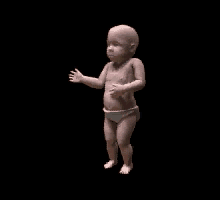 They've been around for a while, but it took marketers so time to figure out how to use them as a customer engagement tool. Facebook started supporting animated GIFs in 2015, which gave way to a whole new wave of marketers embracing the concept.
Fifty-two percent of marketers have used an animated GIF in an email campaign, according to Experian. Take this email from Birchbox, for example. The moving snowflake is an animated GIF and does a great job luring you into the email.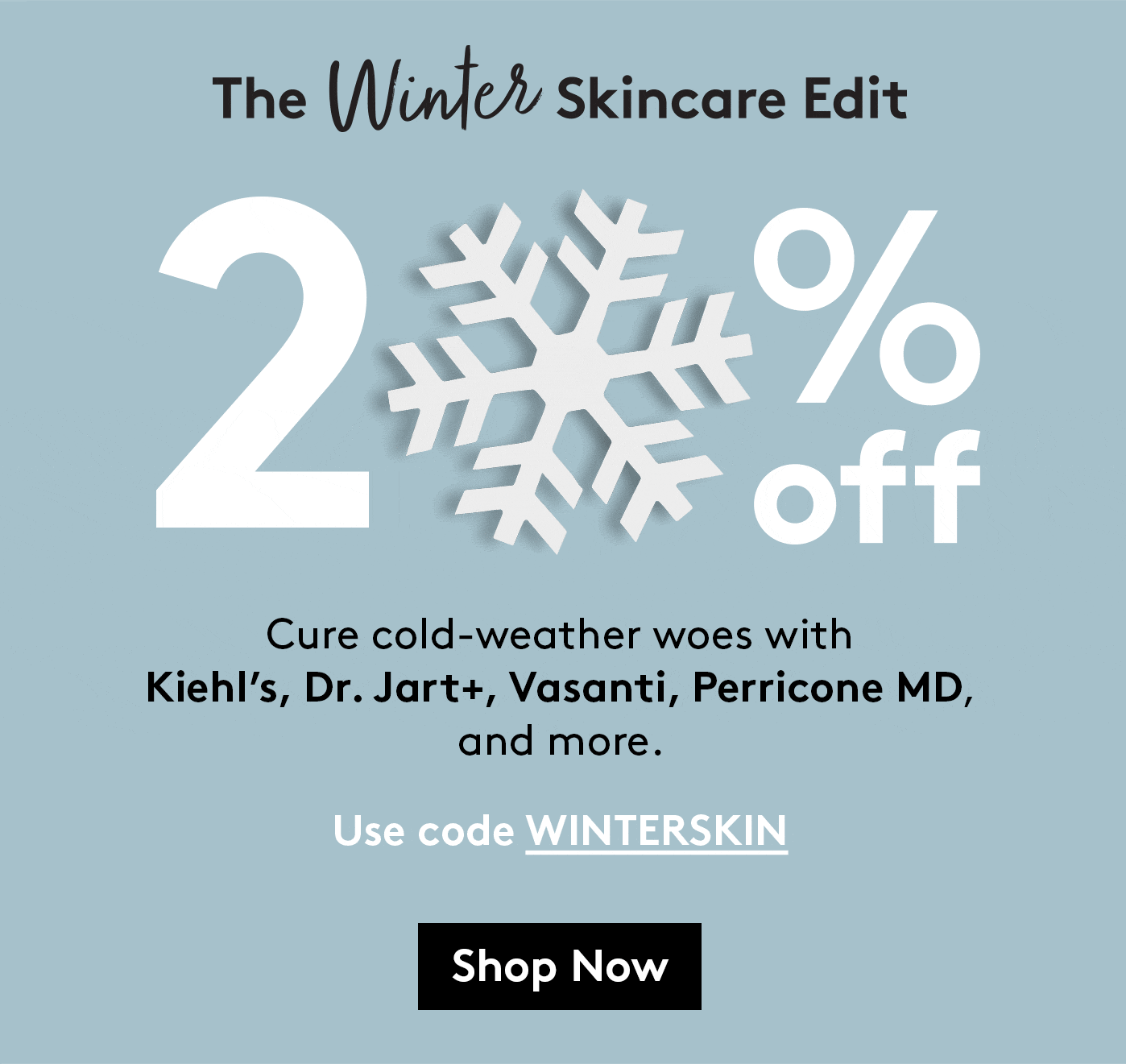 But, animated GIFs do more than just grab attention. Dell used an animated GIF in an email to show one of its laptops. Take a look at the email below.
The GIF shows subscribers how the new laptop flips around. It makes all the difference. Sure, there's text in the email that describes the new product, but watching the laptop's ability is a real selling point. Dell saw a 109% increase in revenue from this GIF, according to a MarketingSherpa case study.
What if you want to use an animated GIF but have no idea how to create one? Not to worry. There are plenty of online tools that can help you. There's GIF.com and Giphy, just to name a few. You don't need any design skills for these tools. They both have drag-and-drop editors and user-friendly features that make GIF creation a breeze for even the most inexperienced designer.
Give cinemagraphs a try

Another cool way to add video to your email is to create a cinemagraph. A cinemagraph is a still picture that has one piece of movement. Here's an example. In this image everything is static expect the Champaign pouring from the bottle.
Cinemagraphs are another tool marketers can use to make an email stand out. Since the average consumer gets 124 messages in their inbox each day, using a cinemagraph is a sure-fire way to be recognized.
Recognition isn't the only motivator though, research shows seventy-two percent of brands that use an animated GIF or a cinemagraph experience higher transaction rates, according to Experian. (Who doesn't want that?)
As with animated GIFs, there are tools that can help you create a cinemagraph. FlickGraph and Flixel are two popular options.
Keep in mind, you can repurpose this kind of content too. After adding a cinemagraph to an email, you can share it on our social channels to get more mileage out of it.
3. What best practices are in place for adding video to email?

Before you send your first video via email, there are some unwritten rules that you should be aware of. Here's what you should know:
Don't overuse videos

Videos are attractive and powerful, but that doesn't mean every email should contain a video. Use videos, no matter what kind – embedded, GIFs or cinemagraphs – sparingly. If you overdo it, the novelty wears off and subscribers won't pay attention.
Watch the file size

Videos of any kind are typically larger files. Emails and large files aren't a good combo. If the file is too large, subscribers have to wait for the video to load. If that happens, any potential to stand out is lost because the subscriber will likely just close your email.
Before you send any video, use a compression tool to make sure the file size is as small as possible. Here's a tutorial and software suggestion to compress video for email.
Pay attention to the first frame

There are a few email clients that don't support GIFs or cinemagraphs, but they will show a fallback image. The email client will use the first frame of the video or GIF as the fallback image, so make sure it's a good one.
Test like crazy

Videos are a unique tool, but that doesn't mean they're right for every audience. As with any email campaign, it's best to test emails with video before you send them to an entire segment.
For starters, test whether or not subscribers respond to videos. Create two emails that look the same, one with a video and one with a still image to see which one does best.
In addition, you can test:
GIFs vs. cinemagraphs
Video length
The size of the video in the email
The placement of the video in the email
Embedded video vs. fall back image
Preview the email

You'll also want to preview the email in different devices before you send it. Pinpointe users have access to a great preview tool that shows how an email looks in dozens of different devices. By viewing the email in preview mode, you'll be able to catch mistakes before they reach subscribers.
Wrap up

Email marketing has always been a powerful tool, but when you add video it opens up a whole new level of engagement and sales potential. As with any email component, videos do take some time to create and require testing before delivery. However, if you commit to making intriguing videos for your subscribers and follow the best practices mentioned above, your customers should reward your hard work with higher response rates.