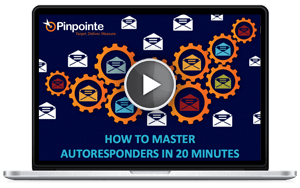 [ON-DEMAND EXPRESS WEBINAR]
How To Master Autoresponders In 20 Minutes
Presented by Reggie Brady

---
There is a lot of buzz about autoresponders and how using them can improve your email response rates and transform your subscribers into dedicated followers. In this quick-fire webinar, leading authority on Internet direct marketing, Reggie Brady explains how B2B marketers can create an effective autoresponder series based on tried and true strategies.
In this 20-minute autoresponders webinar you will learn:



What autoresponders are and why are they important to your business

Benefits of using them

How to approach rules-based campaigns

Importance of data analysis, targeting and A/B testing
We'll also share some real-world examples and leave you with a few great takeaways.
Watch now to start understanding the possibilities that exist when you master the art of autoresponder sequences.

Check out Pinpointe's other on-demand marketing webinars.