Subscribers stray. It happens. But, it probably happens more often than you think.
Research suggests 70-75% of your email list is inactive. In other words, subscribers are ignoring the emails you send. They might read a subject line or two, but they're not opening your message or clicking on any links inside.
Are these subscribers a lost cause? Not at all. You just have to work a little harder to re-engage them.
To help businesses re-engage lost subscribers, we've put together the ultimate re-engagement guide. We'll explain what re-engagement campaigns are, why they're important, give you some examples of emails to send, and – here's the best part – we've collected re-engagement tips from real business owners that you can use as inspiration.
Let's get started.
What is email subscriber re-engagement?

Re-engagement is the process of identifying lost subscribers and creating specific campaigns to bring them back. Some marketers use the term win back or reactivation, but it all means the same thing – you want subscribers to open and click your emails again.
To start, you'll have to define what a lost subscriber is for your business. There isn't a one-size-fits-all definition. It all depends on your product, buying cycle and audience. You'll have to examine past email activity too.
For some businesses, a lost subscriber is anyone that hasn't clicked or purchased in 90 days. For others, a lost subscriber is anyone that hasn't opened or clicked in six months.
Once you've identified the pool of lost subscribers, you'll create a special segment for them and start planning targeted campaigns.
Why is email subscriber re-engagement so important?

The biggest reason to launch re-engagement campaigns is that they offer one of the highest return on investment opportunities in marketing at a small cost. Research shows companies that invest in re-engagement campaigns see a $28.50 return on every $1 spent, according to Experian.
That's cheaper than the cost to acquire new subscribers. Research shows landing new subscribers costs $55.24 per contact.
In other words, working to retain current customers is easier and more cost-effective than trying to attract newcomers.
Why do subscribers stray?

You'd like to believe that subscribers became inactive for reasons out of your control like they moved away or got a new job. While a change in circumstance is a possible reason for inactivity, it's certainly not the main reason, in fact, it's not even in the top five.
Here are the top eight reasons subscribers disengage:
Too many emails
Deceptive subject lines
Confusing design layout
Emails aren't optimized for mobile
Repetitive or irrelevant content
Only signed up for a one-time offer
Prefer getting information from an alternative source
Change in circumstance like job change or relocation
As you can see, most of the time subscribers leave because they're unhappy with the emails you're sending.
As you work to create re-engagement campaigns, it's also a good time to audit your email marketing strategy to see if any of the reasons above are irritating subscribers. Take a look at your response rates and see if you need to alter the number of emails you send, create stronger subject lines, update your layout or embrace mobile-friendly designs.
What kind of email campaigns re-engage subscribers?

When you're ready to start creating re-engagement campaigns, you can draw on some of these great examples:
Blue Apron wins back subscribers with a special deal

Blue Apron created a great re-engagement campaign that highlights little-known facts about its company and gives subscribers two free meals. The campaign reinforces reasons to buy from them and adding a freebie is a nice touch.
Sometimes subscribers become inactive because they aren't 100% sure how to use your product or service. To combat this problem, Webflow, a web design tool, sent an email to inactive customers offering help. The call to action connects subscribers with an expert who can provide one-on-one assistance.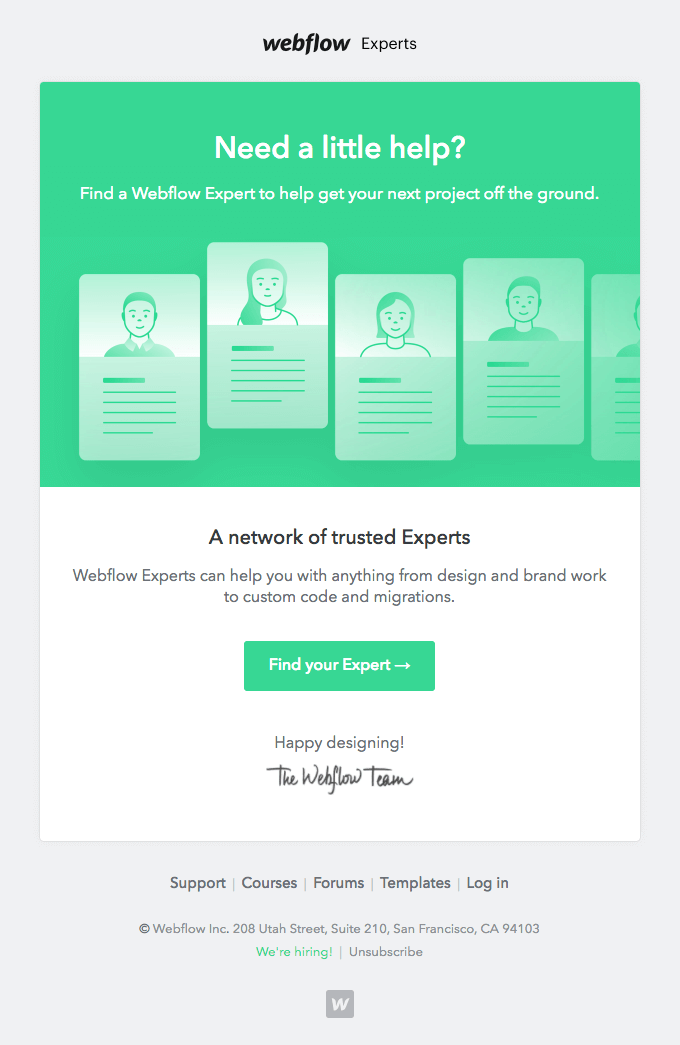 Digiday recaps new features

Inactive subscribers often miss out on new features or improvements you've made. To win subscribers back, create a campaign that highlights everything subscribers have missed. If you've made several improvements in the last few months, consider creating a newsletter-like announcement that's meant to draw subscribers back to your website and let them know what's new.
Digiday created this newsletter as a re-engagement campaign:
Animoto asks inactive subscribers to update their preferences

To gauge whether or not a subscriber is interested in their messages, Animoto, an online video making tool, asks disengaged contacts to update their preferences.
By sending subscribers to a preference center, you put them in control of the messages they send. From a preference center, a subscriber can select things like areas of interest or how often they want emails delivered from your company.
Here's the email from Animoto: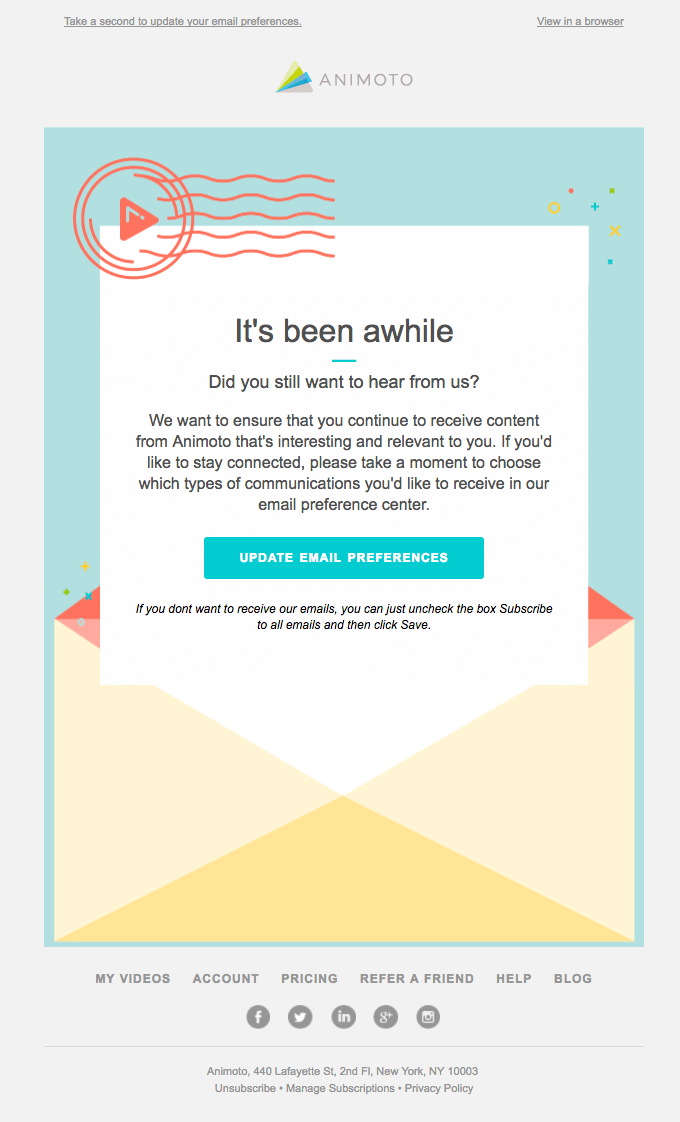 Framebridge asks customers to stay or go

While re-engagement campaigns are effective, it won't re-activate 100% of your contacts. If subscribers aren't responding to your efforts, it's time to consider removing them from your list.
Framebridge, a custom framing company, sends this email asking subscribers if they want to stay on their list.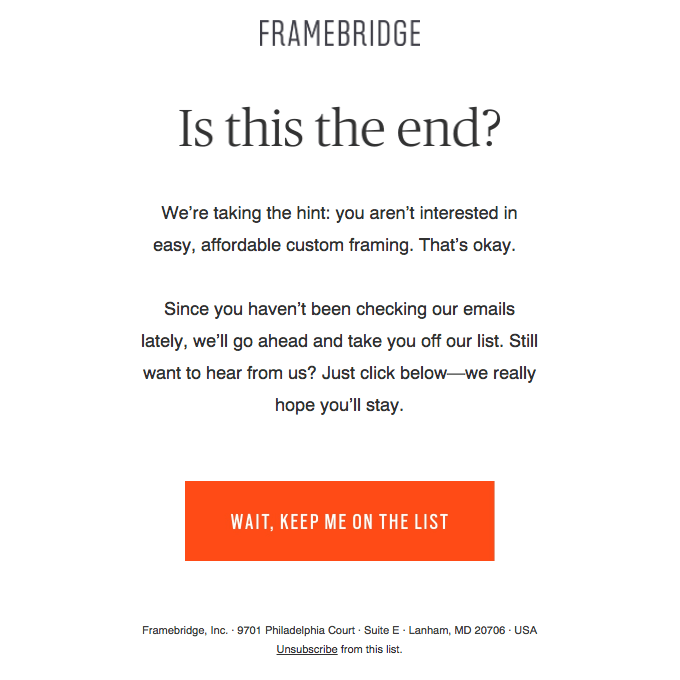 If subscribers aren't interested in your product or service anymore, it's better to remove them from your list so you can focus on those who are serious about what you have to offer.
This kind of email is called a confirm opt-in email, and they typically receive 3.3x higher click rates than other re-engagement emails so they're worth sending.
Re-engagement tactics that real business owners use

While we've given you some great re-engagement examples, we wanted to see how real business owners are using email to win customers back.
We reached out to dozens of business owners who use email marketing as a way to re-engage customers. We got a lot of responses and whittled the list down to the six most actionable examples that we received and list them below:
1. Send a 'We Miss You' campaign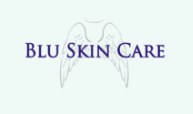 "We re-engage customers through email by offering a discount on their next skincare purchase. Nothing says 'We Miss You' like saving our customers money. It works." -Zonda Wilson, Blu Skin Care
Supporting research: The highest transaction rates among re-engagement campaigns use the words, "We Miss You" in the subject line, according to Experian research.
2. Send a drip series to inactive customers

"Every six months we evaluate our newsletter click rates. Customers who aren't engaging are sent a drip campaign. The first email mentions we miss them and the second email asks if they'd like to see different content. It's a great way to get subscribers back on board." – Raj Ganesan, The Business Labs
Supporting research: Most inactive subscribers won't click on the first re-engagement email you send, so it's smart to send a series of messages, according to research from Experian.
3. Promote great content via email


"Send an email that encourages subscribers to read your recently published content. We get somewhere around a 20% open rate and 10% click rate when we do this." – Bobby Kittleberger, Guitar Chalk
4. Re-engage with stunning images


"When we send emails, we make sure we include beautiful and attractive graphics of the jewelry that we sell. We use those same images on social media too. " -Yaron Shaool, Ka Gold Jewelry


5. Start a birthday club


"I have customers who bought products from my company once and then disappeared. I started a birthday club and sent a birthday message to subscribers with an exclusive coupon. I get 70% open rates." -Dana Rankin, Dana's Bath and Body
6. Create videos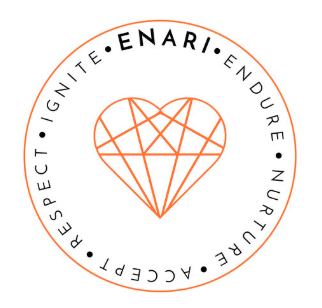 "As a counseling site for couples, we use videos as an educational tool, but also as a marketing tool. When our email engagement rates start to drop, we create a new video campaign and change our sending schedule to keep subscribers intrigued." -Diana and Todd Mitchem, EnariLove.com
Supporting research: Marketers that use video marketing grow their revenue 49% faster than non-video users. If you're ready to create videos for your email, this guide tells you everything you need to know.
Wrap up

Email subscriber re-engagement campaigns are an effective part of any email marketing strategy. Take the time to segment lost customers and create targeted campaigns to win them back. To succeed, you'll need to send several emails. Vary the types of emails you send to increase your re-engagement odds.