Customers want promotions that are tailored to their specific wants and needs, and there's no better way to send targeted messages than with email remarketing.
What's email remarketing? We're glad you asked. Email remarketing is the use of a customer's website behavior to trigger specific emails. An email that's automatically sent to a customer when he or she abandons their online shopping cart is a good example.
This kind of marketing can increase your email benchmarks like open, click through and transaction rates.
To help you get up to speed on email remarketing, we've created this handy guide that covers everything you need to know to send effective, targeted emails to your subscribers.
Let's get started.
Remarketing email examples and tips to create them

There are several kinds of emails that fall into the category of remarketing. We'll highlight the five most popular and provide tips to create each one successfully.
1. The abandoned cart email
The most common kind of email that's generated from email remarketing is an abandoned cart email.
You've probably gotten one before. You shopped on a site, decided to add a few items to your cart, but never made the purchase. A little while later, you have an email that's reminding you to complete the transaction.
An abandoned cart email increases purchases at a rate that's 19 times higher than sending a promotional email, according to Experian.
If a well-timed email encourages customers to make that purchase, why not send it?
Here's an example from FiftyThree: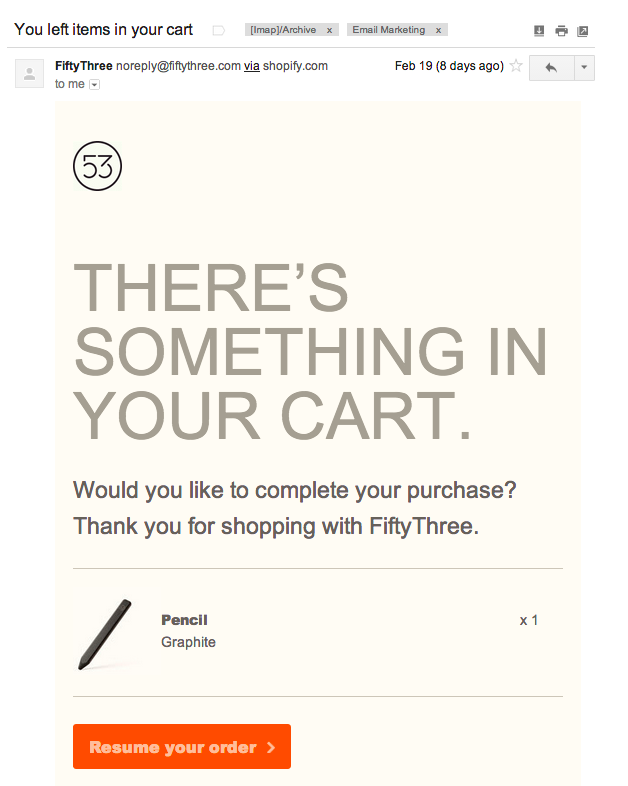 What makes an abandoned cart email successful? Here's what every abandoned cart email should have:
You don't need a lot of text, just something that reminds the customers that they have items waiting for them.
Show the customer what they left behind. It's a good visual reminder, and might be just enough incentive to get the customer to complete the transaction. Showing an image of the item provides a 63 percent open rate, which is 10 percent higher than an email without images.
The email's call to action should be a link that takes the customer directly to the checkout. This is important. If a customer has to jump through too many hoops to make the purchase, they'll likely abandon the cart for a second time and never return.
If you want, you can sweeten the deal by adding a coupon to an abandoned cart email. Give the customers an extra 10 percent off if they complete the transaction within 24 hours.
2. The abandoned form email
Similar to an abandoned cart email, an abandoned form email triggers a message to a subscriber that partially filled out a form but didn't submit it.
For example, realtors might ask first-time home buyers to fill out a form that helps the realtor find houses that fit the buyer's needs. An investor could encourage a potential client to complete a form on his or her website to learn about specific retirement investments.
Here are some tips to create and send an effective abandoned form email:
Remind customers of their interest and explain (quickly) what the form's purpose is.
Often times you're trying to generate a new lead with these emails, so make sure your business logo is front and center. You want customers to recognize it moving forward.
Provide a link that sends customers right to the form, so they can fill it out and submit it immediately.
3. The browse email
You can send an email to a website visitor based on what he or she checked out on your site. Let's say a shopper came to your site and browsed around your kitchen utensil section. You can send an email that showcases the particular items the customer looked at, and include a few other ideas the customer might be interested in.
Here's an example from Williams-Sonoma: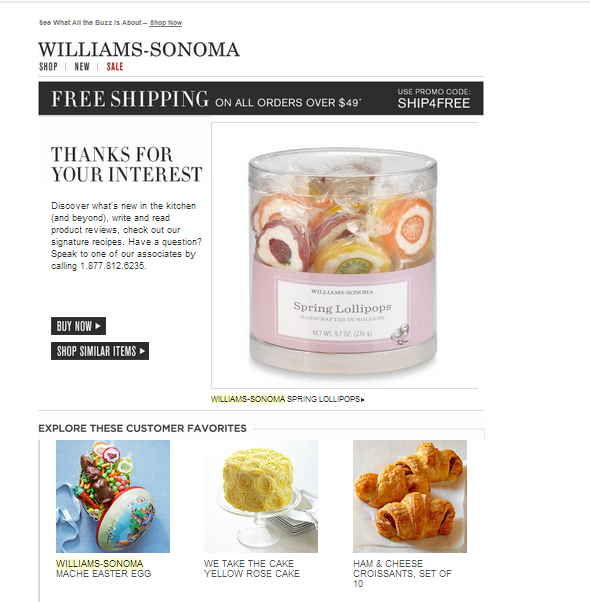 Here's what we love about this remarketing email:
It shows the customer what they were looking at online. It doesn't get more tailored than that.
It shows appreciation for the customer's time. It's a nice gesture, and could convince the customer to make the purchase.
This email makes it easy for the customer to buy the item he or she was interested in. And, if that item is no longer of interest, there's another link that helps the customer find similar items. These two links cover all the bases.
4. 'Thank you for your purchase' email
After customers make a purchase, send an email thanking them and offer an incentive to come back again.
For example, you could offer 20 percent off their next purchase, or a free shipping code for their next transaction. You could also include similar items the customer might be interested in.
This email accomplishes quite a few marketing goals. For starters, by thanking your customers you build trust. Plus, an incentive or a list of related items is a good way to bring customers back to your site.
Here's an example of a post-purchase thank you email from Reeds: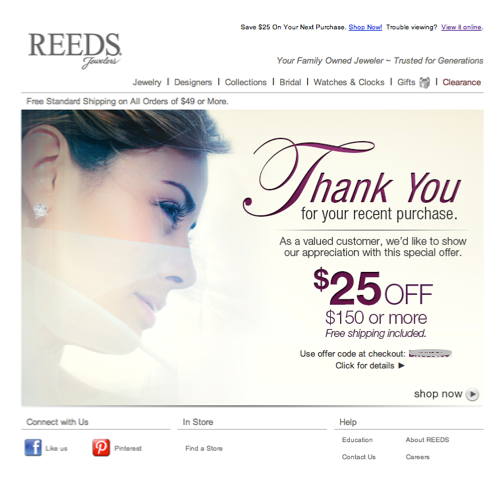 Using this email as an example, here are a few tips to create your own:
Short message of gratitude
Tell your customers that you appreciate the purchase. Keep it short and simple.
This retailer offers $25 off a purchase of $150. It's easy to understand. Make sure your incentive is as well.
The call to action should be a link that allows the customer to shop on your site, or print the coupon off for use in-store.
5. 'Back in stock' email
If a customer checked out your site and looked at an item that's out of stock, send an email when inventory is back on your shelves.
By letting customers know that an item is back in stock, they'll likely buy it for fear of it being sold out yet again.
Here are some tips to create a 'back in stock' email:
As with other remarketing emails, images here are key. Show the customer what item you're refereeing to. If the item was out of stock for some time, an image reminds the customer what the item looks like.
Tell customers that you've got great news, "The item you wanted is back in stock!" Make the message encouraging and uplifting. If you can make customers excited about the purchase, they're more likely to buy it.
As with every remarketing email, don't forget the call to action. Give customers a button to click on that takes them directly to a shopping cart, or as close to it as possible.
When to send remarketing emails

After creating remarketing emails, you're probably wondering when to send them. Is it better to send an abandoned cart email minutes after a customer leaves the site? Or is it better to give the customer a day or two to think about the purchase?
Ninety percent of e-commerce leads go cold after the first hour, according to Moz, so you want to send remarketing email as quickly as possible.
If an hour seems a little too quick for you, the general rule of thumb is to send remarketing emails within a day of the customer's activity. It holds true for all remarketing emails, except the 'back in stock' email. Obviously, you can't send that until the item is ready for purchase, but once it's back on your shelves send the email ASAP.
You can send more than one remarketing email to the same customer. The rule of thumb on frequency is between 2-3 emails. Make sure each email is different though. You shouldn't send the same exact email twice. If a customer hasn't made a purchase by email number three, add a can't-pass-it-up coupon like 20 percent off to close the deal.
As always, it's best to test the timing and frequency of emails with your audience. You want to find what's right for your business.
Remarketing emails have a lot of sales potential for businesses. Using this guide, you'll be able to create successful campaigns that resonate with your customers and increase your bottom line.