Have you ever received a gift that was so thoughtful and personal that you just knew the individual who got it for you really put a lot of thought into it? By taking the extra time to think about your personal likes, needs, wants and desires, he or she was not only able to give you a unique gift that you were excited to receive, but also made you feel extra special. Wouldn't it be awesome if you could create a similar feeling in your subscribers the moment they see an email from you in their inbox.
In general, your email subscribers receive your emails because they opted in to receive more information about your company, your industry, your partners, your offerings, etc. This extremely basic information gives you enough data to create high-level email campaigns that keep many subscribers on your email list who aren't:
a) opening your emails or
b) opening your emails, but are not engaging.
In other words, these subscribers get your emails but don't read them and react until they see something of interest. Sound familiar?
In most cases, this is because subscribers are lumped into a general email list that contains limited data about each contact. This kind of data is fine if you're looking for mediocre results and are only interested in growing your subscriber list – not quality leads and prospects. On the other hand, if your objective is to use email marketing to engage your subscribers and identify credible leads, it's essential to develop a method of gathering critical behavioral and demographic information about each of your contacts. This can be achieved through a cross culmination of:
Evaluating how your contacts activity on your website
Developing and using buyer personas to address subscribers' personal wants and desires
Utilizing email segmentation and dynamic content to increase personalization
Step 1 – Target By Interest

Inbound marketing software programs like HubSpot provide you with extensive data about your contacts – information that will help you define them by their particular interests. You can also evaluate how long they have been interacting with your site and what pages they spent time reading.
What blog articles do they read and are the articles on comparable topics?
Do they only download whitepapers and other assets on individual subjects?
These are all key indicators that can help you define the interests of a particular contact. Combine this data, their job title and the company they work for, and you can begin to draw educated conclusions about what content and offers would resonate with each one of your contacts. The next step is creating buyer personas.

Step 2 – Create Buyer Personas

The interest in buyer personas is actively growing and for an excellent reason. Creating a buyer persona can help you identify your ideal customer through individually identified traits including Demographics, Ideals, Desired Experiences, Daily Challenges, Role, Day in the life scenarios, and Common Objections. Yet, According to a survey conducted by ITSMA that revealed how B2B marketers are using buyer personas, 44% of marketers have created buyer personas, but 88% are not using them correctly. Marketers seem to be building personas based on information they already know about their target audiences and are not delving deeper into why particular contacts respond or disregard specific email campaigns or offers. Review the infographic below to gain better insight into creating your own buyer personas.
Step 3 – Use Dynamic Content and Segmentation

Now that you have done your homework to understand better who your email subscribers are and have connected them to specific buyer personas, you can start sending out more targeted campaigns…well, almost. Before sending any email campaigns, you first you need to segment your contacts based on the information you have compiled. Email Service Providers like Pinpointe allow you to add custom fields (dynamic content) to your contact information and then segment your email contacts into subgroups of contacts. For an example, let's say you want to send a targeted offer to a group of contacts who:
a) Lives in Seattle
b) Opened your last campaign
c) Have downloaded a specific whitepaper
d) Are c-level executives
e) Work for a company with 1000+ employees
f) Have the first name Joe
g) Visited a particular page on your website
First of all, you would create dynamic content fields for any fields that are not included standard within the platform. These fields could include items like:
AssestDownloaded
EmployeeSize
WebPageVisted
WebSiteVisits
PositionLevel
Next, you would create a segment including any fields that contained data that would personalize your email message. Pinpointe makes this extremely easy. Not only can you include specific data fields, but you can also include behavioral data, i.e. – if a contact clicked on a specific link, if they opened a previous email campaign, the date they were added to your database, etc. You can get very specific when creating a segment.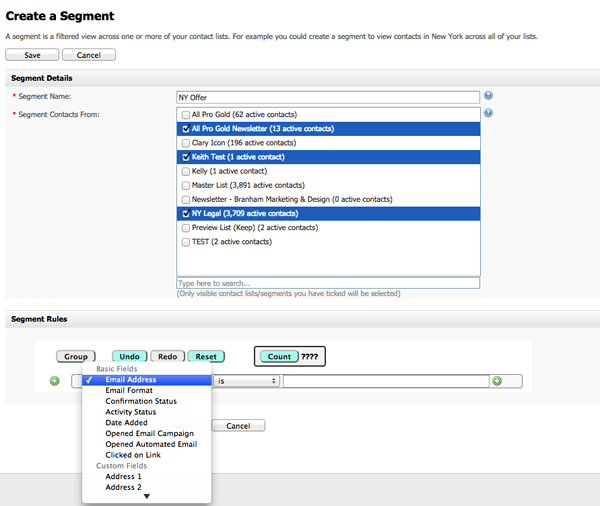 You can then take your dynamic content one step further by including it in your email offer.
Hi Joe [FirstName],
As a C-Level Executive [PositionLevel] at ABC Company [Company],…
You see where this is going, right? So not only can you specifically target your customers, but you can also send personal, well-thought out emails that make your subscriber feel more connected to your offer or email communication.
Now I can't promise that your subscribers will scream with excitement and cry tears of happiness over your email, but they will be more likely to engage and look forward to receiving your campaigns in the future.
Try Pinpointe's advanced segmention features for free today.