E-commerce websites aside, businesses often use an email newsletter to share useful content with their audiences. Whether you have lists of subscribers, previous customers or prospects, newsletters are a great tool to support audience engagement. Even if you want to attract an audience with content only and no sales talk, that doesn't mean that there's no space for subtly promoting your business. In this article, we'll show you how.
Design Your Email Newsletter Well
Good design is one of the fundamentals of sending an engaging and high converting newsletter. Your messaging could be well-written and thorough, but ultimately if your audience can't read or understand the form of your content, they will quickly lose interest and may even unsubscribe completely from future newsletters.
Pinpointe has a handy guide on email design trends, and shows how visuals can aid written content in delivering a quality and relevant message. Another key consideration is to design your email to be accessible and responsive across all devices including tablets, phones while also taking different browsers and email clients into consideration. There are some notorious problems with certain email combinations such as using MailChimp to deliver emails to users who use Outlook, for example, so be mindful of the limitations here and make sure that your templates and designs are universally responsive. Many email software providers now provide responsive templates, such as the ones below from Pinpointe.
Credit: Pinpointe
Another thing to remember when creating high converting email newsletters is that you want your audience to engage further with your brand once reading it. Whether your strategy is to generate social media follows, yield leads, or for your audience to read a full article on your website, it's important to keep your messaging clear, concise and to the point. By making sure that each section of your newsletter has no more than 75-80 words, this will also guide you in not sacrificing conversions by giving too much away.
Lastly on design, make sure that your branding is clear throughout. Whether it's your logo at the top, using a similar layout to your website or using your brand/product name regularly, the key to keeping your open rates high with a static audience means creating brand recognition and familiarity.
Share Useful Insights
To create a high converting newsletter that is regularly opened by your audience, a key thing to remember is to share useful insights and to remember to think as the customer, not as someone who knows your business inside and out.
When developing a content strategy for newsletters, think about how you can address your customers' needs, wants and problems. For example, if you are a car insurance company where your customers only purchase once every few years, you may wish to keep in touch throughout the year with the hopes of engaging and retaining them at their renewal period. Some useful content for car insurance email newsletter content would include guides to reducing fuel consumption, saving on servicing fees or even tips on preparing your car for its MOT. While this isn't an explicit sales message, by creating content that is relevant to the needs and current problems that your audience may face, you breed trust while encouraging brand advocacy and loyalty.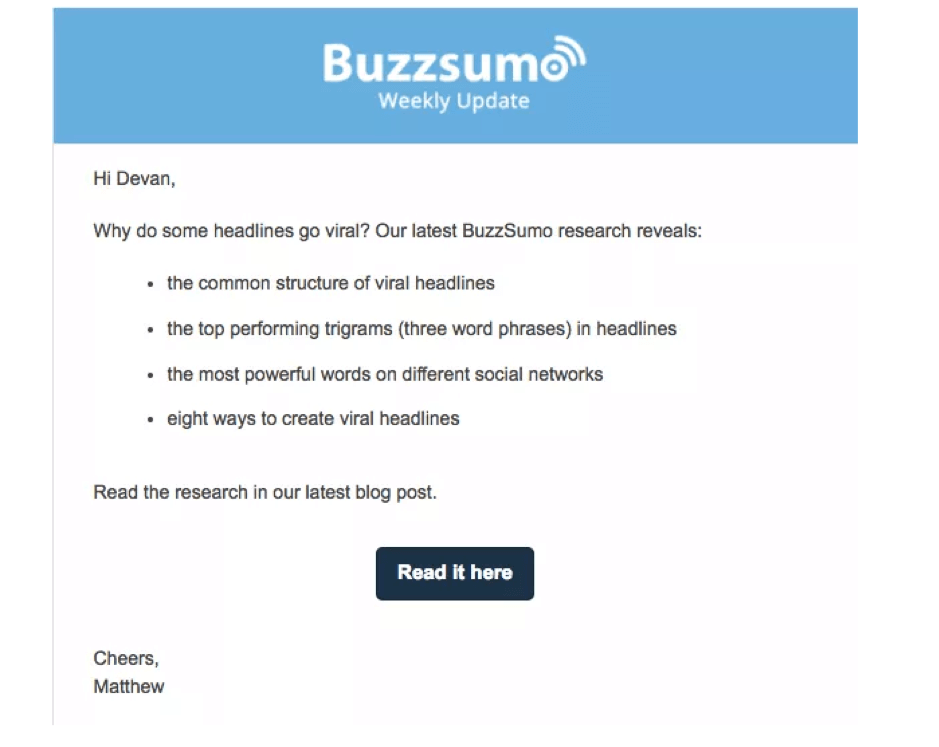 Credit: Sumo
That being said, it's also important to keep things light in a newsletter. It's not often that people open newsletters from brands in the hopes of reading something negative – customers and prospects want helpful content, relevant news and messaging that speaks to them. If you're a small business, this may include staff updates, sharing a day in-the-life of your team or may even include sharing and celebrating significant milestones with your customers.
Another great way of keeping things relevant and useful, particularly with regards to e-commerce or B2C businesses is user-generated content, or UGC. If you can create the space for your customers to share their insights: how they use your product, various (uncommon) usages, or even video testimonials or feedback, this can help to create a fun community with a friendly face at the forefront. Brands and products these days are very often 'faceless', but with the rise of influencer and social media marketing, it's clear now more than ever how crucial customer recommendations and video testimonials can be. By sharing testimonials, reviews or alternative product uses in your newsletters, your customers are sure to find value in your content.
Keep a Level of Consistency
It's important that when sending newsletters and emails that your branding and styling is consistent. Try to stick to a clear template, font and style guide. Sending a different template or styling each time you send a newsletter can be confusing and won't help you build trust or credibility with your audience.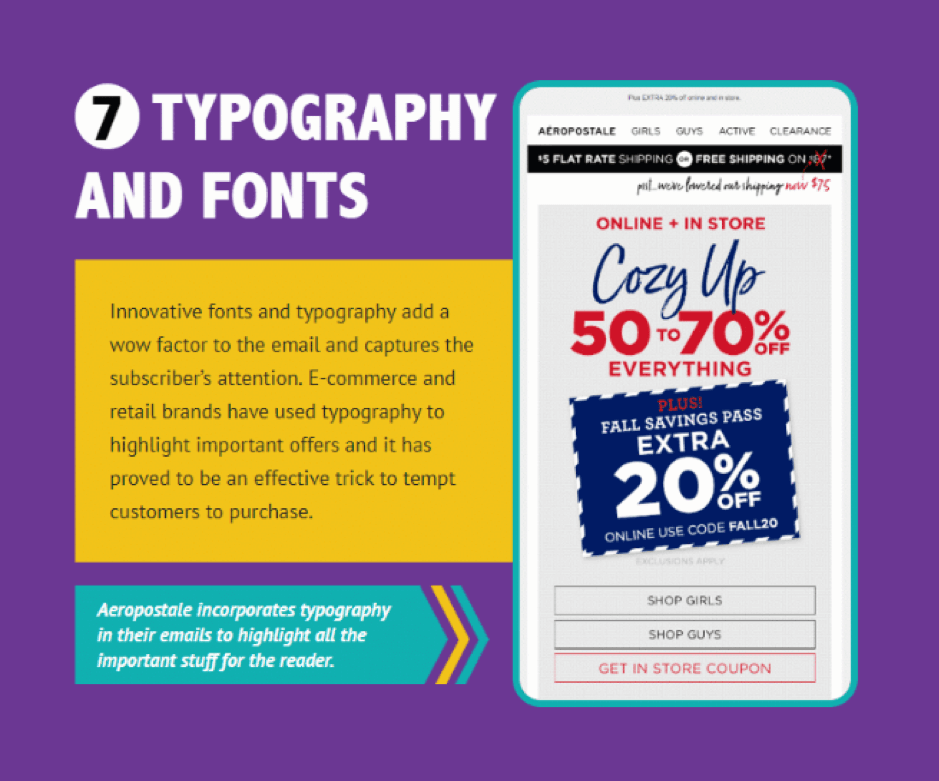 Credit: Pinpointe
Instead, create an initial template and agree internally on your style guide for emails. Make sure that the template includes a header or title, footer, content sections and hierarchy, room for images and video and gaps for call-to-actions throughout. Your style guide will include things like heading, subheading and paragraph font styles and sizes, link styling and color schemes, and it's essential that all internal and external contributors to the newsletter curation adhere to these 'rules'.
Use Clear Call to Actions in Your Email Newsletter
One of the main considerations when putting together a high converting newsletter is your call-to-action(s) or CTA. This helps guide your audience from your newsletter to taking the desired action; whether that's reading your content in full, purchasing a product or referring their friends or networks to you, your call-to-action is arguably the centerpiece of your newsletter.
CTAs that convert well often are 2-3-word phrases that highlight the benefit of that action to the user. Examples of clear CTAs include "Get more tips", "Learn more" and "Call now!"
Another great way to encourage more CTA click-throughs is by using a contrasting color that isn't used elsewhere on your newsletter. For example, if your newsletter is light blue and white, try a dark purple or red for your call-to-action button to make it really stand out. A great example of using a clear call-to-action is to have a button that says "Call now!" instead of just including your phone number in the footer of your email – this actively encourages an action and means your audience are far more likely to give you a call if they're being 'told' to do so.
Get 12 tips to create a killer call to action for every email.
Of course, the best way to find your perfect call-to-action copy and button color combination is to A/B test! Try splitting your email list into two (or more!) groups: Group A may include a CTA and Group B's email may not. Alternatively, how about using your main brand color for a CTA for Group A, and trying a contrasting color for Group B. There are various ways to do it, but the bigger your audience and test size, the quicker and easier it will be for you to create informed, data-lead decisions to engage your audience better.
Use Segments
Using segments in email marketing is something that often sounds complicated but, with the right dataset and tools, can actually be super simple. There are lots of ways you can segment your audience when sending your newsletter. You can group or segment into previous customers and prospects, those that refer friends and those that don't, or even those that have left reviews and those that haven't. Still not sure? Here are 24 email segmentation ideas.
Whether you're actively selling a product or not, updating your messaging according to segments is a really innovative way of ensuring a high converting newsletter. By personalizing your messaging to cater to the behavior of that audience, you ensure that your content, copy and messaging will match their needs.
For example, you wouldn't want to send a mass email to your entire audience asking them to purchase Product B that complements Product A regardless of whether or not they have ordered Product A. Instead, it would be much more appropriate to send tailored product recommendations based on not only their previous buying behavior but also perhaps even by lifetime value, purchase frequency or product type.
An easy example of this is imagining a company that sells BBQs – by using the data of the customers who have previously purchased a BBQ from you, you can assume that at some point, they will also need charcoal, tongs and a heat-resistant glove. This is a great way of not only upselling your products and services to previous customers, but in doing so, also addressing their needs effectively, based on their previous behavior and purchase history. A great example of this is from Dollar Shave Club who sell razors, but upsell products like shave butter, hair styling products and post-shave balm to their customers.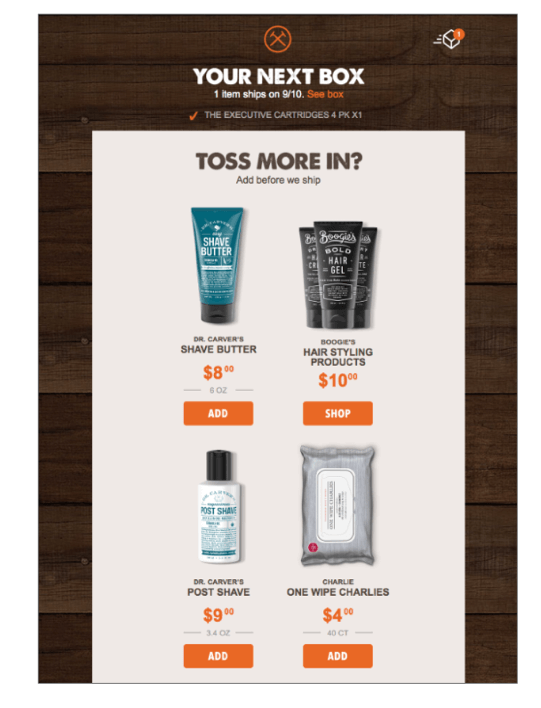 Credit: Point visible
Last of all, remember your audience. Segmenting by demographic or geography such as age, gender or location is also an option when distributing newsletters. Think about how you would develop or enhance your messaging per demographic to make your newsletters more relevant to each user. According to Forbes, customers are increasingly demanding more personalized engagement, but only 10% of top tier retail brands say they're highly effective at personalization. By adopting a responsive and personalized newsletter strategy, you can quickly lead the way in best practices for newsletter campaigns.
Make it Interactive
As customer and consumer expectations rise, one of the newer innovations in newsletters and email marketing is interactive content. If you're looking for something simple that gives you the edge over your competitors, interactivity can really boost a brand's image. One of the most common examples of interactivity in emails this year is the use of GIFs. Now, this doesn't mean loading your newsletter packed full of data-heavy moving images, but a GIF in the header or in one of your image blocks on your newsletter can really increase engagement and encourage an audience to read on.
This can be as simple as some movement in your logo, or perhaps even a hand holding one of your products and placing it on a table. The choice is yours! Some other great examples of interactive emails can be seen in this article, which discusses in detail how interactive emails increase subscriber engagement.
Another good example of interactivity in newsletters includes the use of accordions (as seen below), short videos and countdowns. By adding an element of animation or movement, this can really help bring your static newsletter to life.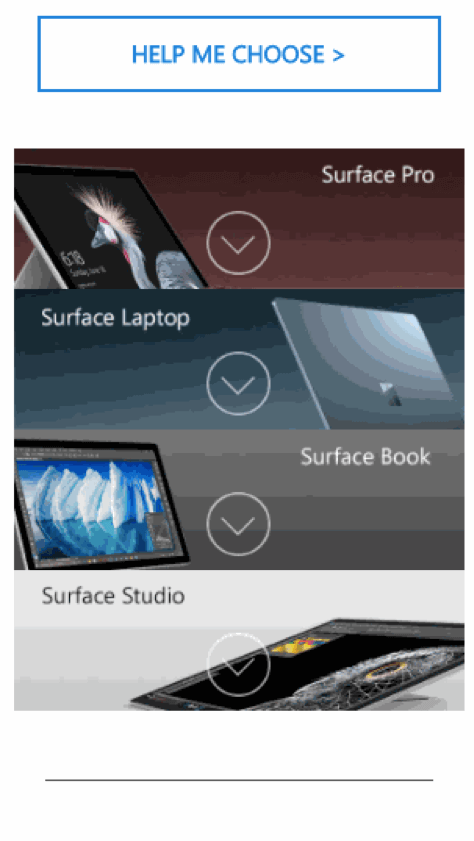 Credit: point visible
By following the steps above, you can ensure that each and every one of your email newsletter campaigns is not only high converting, but that it's useful and truly engages your audience by fully addressing their needs. By developing insights, movement and incorporating interactivity into your emails, your open rates from customers and prospects alike are sure to skyrocket.