How Gmail Tabs Impact Email Marketing

In May 2013, Google launched the new tabbed interface for Gmail that was designed to give Gmail users the ability to better control and organize their inbox messages. The new interface allows users to define Gmail's inbox tabs to prioritize their incoming messages into categories such as Primary, Social, Promotions and Updates tabs. You can also add other tabs or delete the standard tabs to return to the Gmail inbox's former look and functionality.
Nevertheless, the new gmail tab categories are intended to separate the incoming messages based on significance and allow users the ability to read similar messages all at once. In general, the most important emails messages can be found in a user's main "Primary" tab, while lower-priority messages get diverted into a "Promotions" tab.



The New Gmail Tab Settings – A Brief Summary

Here's a brief explanation of what you can expect to find in each of the new Gmail tabs. Note that the Tabs are not the same as the Categories, which you may already be using to organize the emails in your inbox.
Primary Tab:
Interpersonal messages from your regular contacts
Can be messages that don't fit the other tabs you've set
Social Tab:
Messages you receive through social networks
Could include updates on new Twitter followers, direct messages you've received, plus additional updates from social media sites like Facebook, Google Plus, and others
Promotions Tab:
This is where any email sent via a third party service, like Pinpointe, Marketo or MailChimp, will land (assuming the message isn't filtered as spam).
Generally, these are messages from sites where you've signed up for updates / newsletters / content etc
An Updates Tab:
Can be added
This tab includes messages that provide updates from forums and sites like PayPal
Do Gmail Tabs Negatively Affect Email Marketing Campaign Results?

Unfortunately, the answer is highly probable "YES." If your business relies on email marketing, this new tabbed layout could mean that the majority of your marketing messages delivered to Gmail accounts will get pushed to the Promotions tab. This means that some of your messages may get lost in the mix.
---
>> Gmail only displays 45% of HTML: Test your email campaign before sending. Free Trial >>
---
According to Litmus though, 50% of Gmail users don't read their email in a client that supports the tabbed interface: just 19% of Gmail users actually read their email in Gmail's Web client. More than one-third of Gmail users, on the other hand, read their mail on Apple's iPhone mail client. Another 20% of users check Gmail on their native Android app. Neither mobile interface currently supports tabs. Overall, mobile devices now account for 47% of opened emails, regardless of mail provider.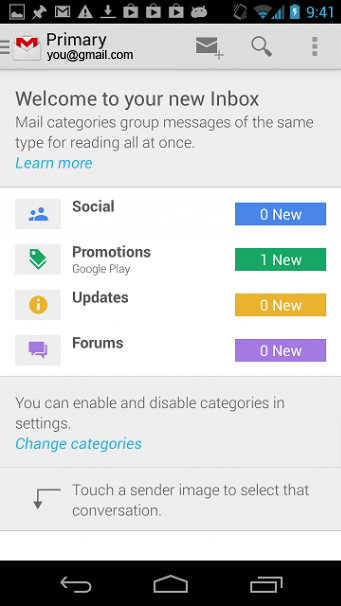 Mobile View of gmail tabs
Companies have seen a 7.75% decrease in Gmail opens, with numbers in the 3% range for the first time after more than a year of figures at or above 4%.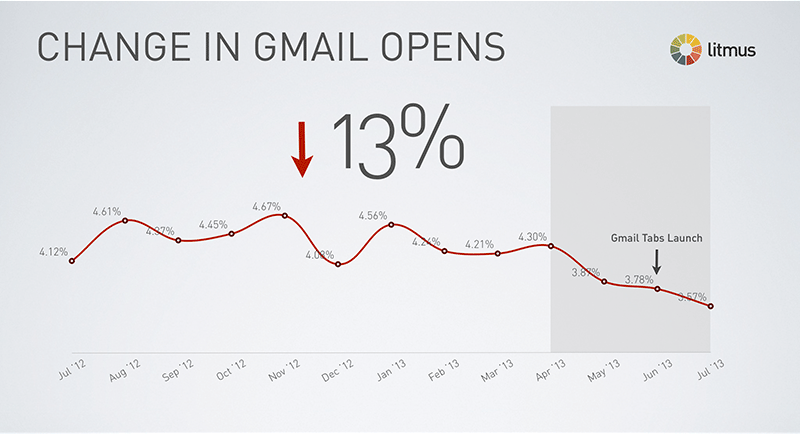 Reference Source and Data courtesy of
Litmus
However, there could be an up side. According to the web buzz around Gmail tabs — particularly the Promotions tab – there are mixed emotions regarding how businesses, which rely on email marketing, will be impacted.
Here are some of the opinions we found…
Gmail Tabs – The Negative (-)

Delayed action on marketing emails. Countless email marketing messages are ending up under the Promotions tab. Carolyn Nye of Practical Ecommerce suggests this may cause customers to look at them significantly later. This has become a challenge flash-sale sites, like Gilt and MyHabit, whose business depends on drawing customers to limited-time sales.
Tip: Rethink timely offers and deadline-oriented campaigns.



More competition. Having your marketing email piled up to be read later with other marketing messages may mean you must do even more to stand out. Google includes of its own promotions within the tab, which only creates more noise detracting from your message.
Tip: Come up with a compelling subject line.

Greater email shelf life. Emails may no longer be the immediate response-marketing tool any more. Instead your subscribers are more likely to ignore the 'Promotions' tab until they have the time to review it. (The good news however, is that customers could go back to that email in the Promotions tab weeks later to actually take action. For example – think of the way people read magazines – they tend to keep them around longer and read when convenience.)
Tip: Re-evaluate the timing of offers that would otherwise be time sensitive. For example if you'r special offer expires in 24 hours – there's a good chance your subscribers may not read it until after the expiration date.

Promotional posts archived. Melanie Pinola of Lifehacker observes that if the filters available on Gmail are applied, emails in the Promotion tab could be archived automatically. That means they would never be seen – your email campaigns might as well be going to the spam folder or the trash folder
Gmail Tabs – The Positive (+)
More engaged customers. Conversion rates could be higher among customers who take the time to seek out your emails in the Promotions tab.

Fewer emails in the junk box. Users now have a place to put promotional messages they really want to receive, so having special tabs may cut down on the number of emails ending up in the junk or spam box.

Alerts. The Promotions tab lights up green and alerts users when a new promotional email arrives in the Gmail inbox. Many of these types of emails normally get lost in a long list of my normal email and Google has differentiated them from my normal email stream.
What To Do About Gmail Tabs

As you can see, the positives may outweigh the negatives, but that doesn't mean you can't take action yourself. Rather than waiting to see what the new Gmail Tabs will do to your email marketing campaigns — be proactive. Here a a few steps you can take to improve email marketin results for Gmail:
Contact your mailing list subscribers who receive their marketing messages through Gmail and educate them on how to keep getting your emails. Advise your Gmail subscribers that — if they still want to see your emails regularly they need to either visit the Promotions tab or mark the email "not promotions" for the future.

Inform your subscribers from the very start by updating your thank you page with instructions on where to find your email if they use Gmail.

Focus on s

pend more time on making your marketing emails trustworthy, relevant and conversational, with an

extra "oomph"

to stand out above the rest. On the bright side, before your email had to compete with emails from family, friends, and work. Now, your email only needs to be good enough to beat out other marketing emails. So in some ways, the new Gmail tabs may actually present a heightened chance for your email marketing emails to be viewed and opened by your subscribers.
Teaching Gmail Tabs What You Like

The good news is that your subscribers can train Gmail to prioritize stuff they like – like your great newsletters / email content. They just need to drag an email from Promotions tab and drop it onto the Primary tag.
(Note: From an end-user's perspective – once you move any emails into the 'Primary' tab, there's not an 'undo' button and there's no way to see which senders / emails have been manually moved into the Primary tab. In other words, you can't mistake or edit your list.)
The bummer for email marketers, is that you can't automate this. Many companies are now urging readers to do this, and that's probably not a bad strategy overall (See tips, above.) Plus, and as the email marketer – Google doens't provide any feedback when the subscriber moves your email to the Primary tab.
One Last Thing to Remember

Don't forget to be strategic. No successful marketing campaign has ever been launched without taking the time to test email campaign opens, measure their effect, and adjust based on the answers. Only time will tell if the Google Tabs will negatively impact your email marketing efforts.
---
The following articles were inspiration for this post:
http://kikolani.com/new-gmail-inbox-tabs.html
http://smallbiztrends.com/2013/07/gmail-tabs.html
https://litmus.com/blog/gmail-opens-drop-18-are-tabs-to-blame