Ready to get new customers excited about your product or service? By creating a series of onboarding emails, you can get your customers pumped about your product and encourage them to use it at the same time.
What does "onboarding" mean? Onboarding is marketing speak for familiarizing customers with your product via email. In short, you make efforts to help new customers use your product, find new features or uses, and provide educational tips to get the most out of your product or service.
By creating an onboarding process, you can help reduce the average 32 percent email churn rate that most companies experience, and instead get customers to use your product.
To help you create and send onboarding emails, here's a list of tips you can use along with some great examples to mimic.
Tips to send onboarding emails that work

When you want to get customers excited about your product and encourage them to use it, you can send emails that are specifically designed to introduce new users. Onboarding emails go beyond welcome emails and provide customers with specific ways to interact with the product. Use these tips to create an onboarding campaign:
1. Focus on beginning stages

When a new customer shows interest in your product, your onboarding emails should focus on steps for beginners. You might offer an app that can do 100 different tasks, but the tasks you should introduce your customers to are those required to get started, or basic steps that help the user get familiar with your product.
Ask yourself, what does a new customer need to know to get started? Focus your email efforts on those features.
Hootsuite sends its new customers a "getting started" email that helps them set up their dashboard and provides a tour of features. Hootsuite can schedule posts on Facebook and provide access to multiple administrators, but the email doesn't mention any of these features because they're for more advanced users.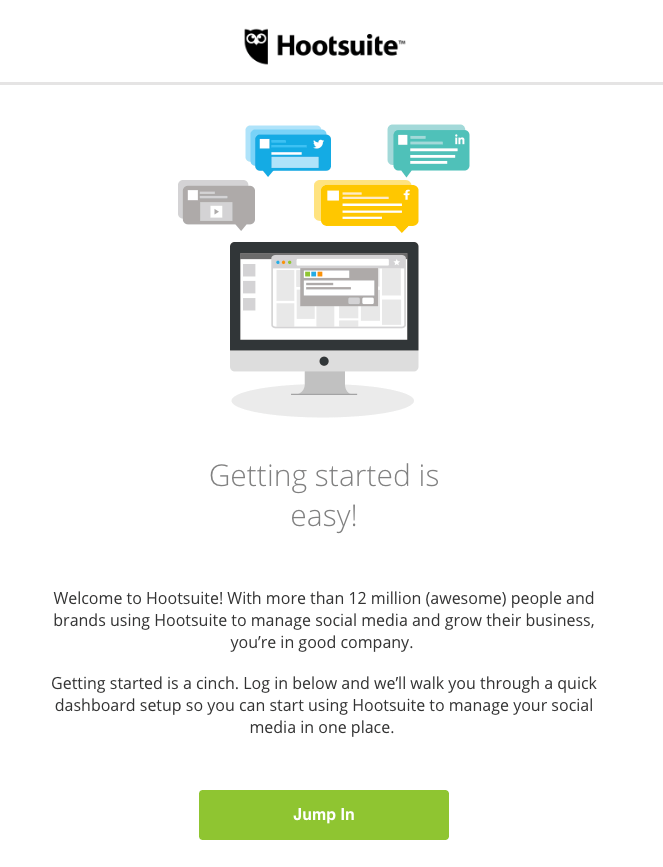 What we love about this email:
A warm welcome
It has a clear purpose to help new users get started
Standout call to action
2. Provide simple directions

When onboarding new customers, you might be compelled to tell customers all about your product or service. However, it's important not to overwhelm new users. The best way to onboard a customer is to introduce them to your product slowly, in small doses.
Each email you send should have one purpose, and the call to action should lead customers to a specific place.
For instance, this company encourages users to pick a template and start designing their project. The email has one purpose, which is to get users to pick a template. The call to action takes users to a specific site where templates are available.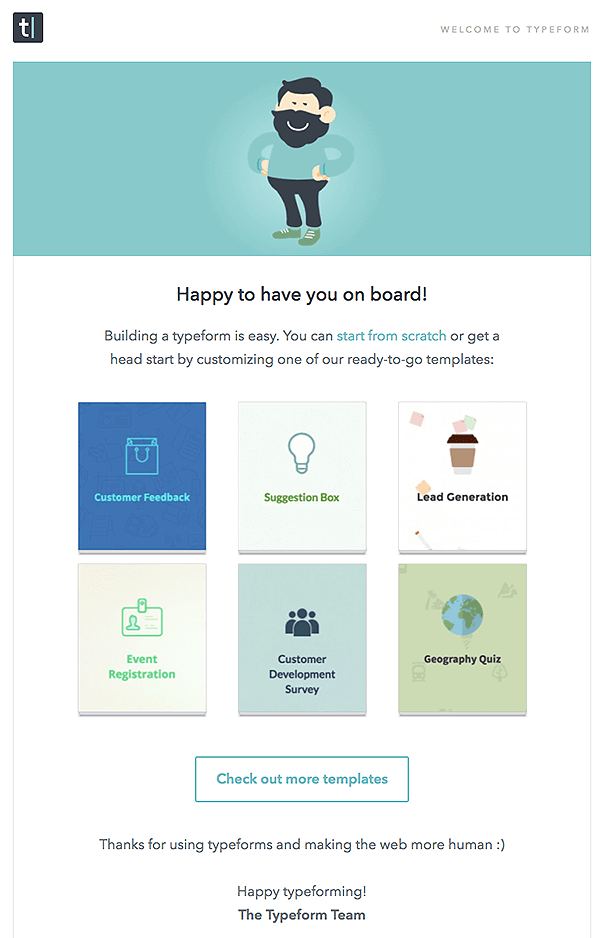 What we love about this email:
Simple direction
Great use of icons and images
Limited text needed to describe the email's intent
3. Offer relevant services (that customers pay for)

While many onboarding efforts are aimed at first time users or customers, you can continue the onboarding process as the customer becomes familiar with your product.
Many brands offer free services, hoping to get a customer hooked and then sell them a higher tier service for a certain price. It's called upselling.
You can create emails that show customers how much they use your product or service, and explain the benefits of upgrading.
Or, by tracking customer behavior, you can offer services that fit each user's needs. For instance, this freelancing website knows that a user posted a freelance job to their website but never hired anyone. An onboarding email explains a service the user might be interested in where a company recruiter finds the right candidate for him.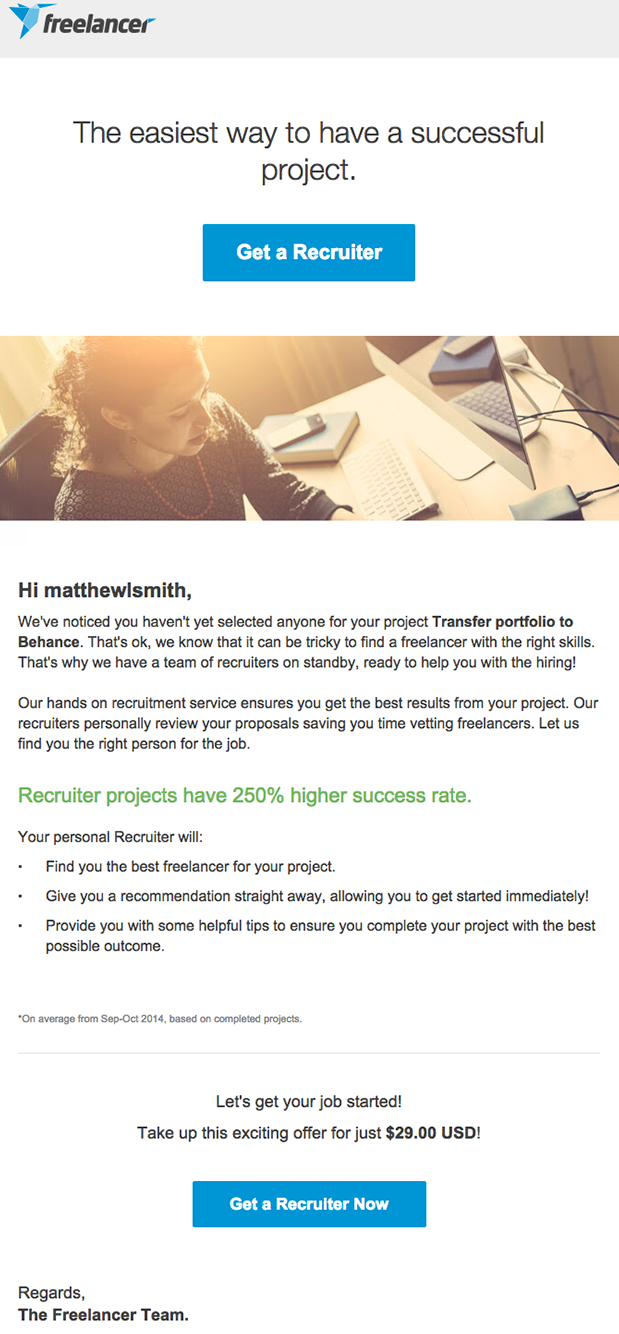 What we love about this email:
It's tailored to a specific user and his potential needs
It solves a problem for the customer
It explains what the service is and how much it costs
4. Give additional resources

Help customers use your product by offering additional resources that can help them get the most from your offering.
You could direct new customers to a recent blog post that provides specific instructions, give users access to a guide or white paper that dives deeper into your product or industry, or connect customers with product reps or support teams if they need help.
Here's a great example of an email that offers Code School users a beginner's guide to web development to help customers brush up on design techniques.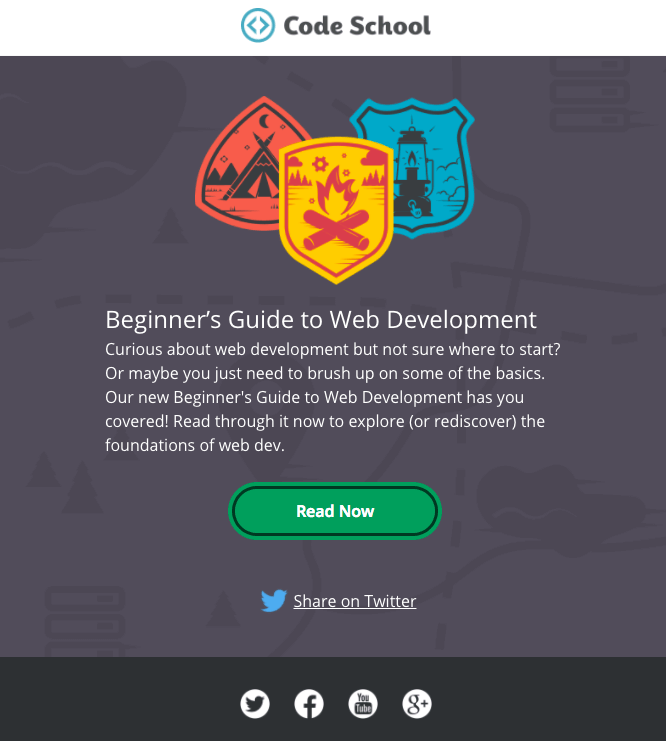 What we love about this email:
Short, concise description of the resource available
Focuses on one resource, not a dozen
Clear call to action
5. Inspire customers to use your product

Does your product or service have more than one use or purpose? Many brands offer versatile products that do more than customers are aware of.
Part of your onboarding process should tell customers about new features, inspire customers to use your product in a new way or show them something new that's available.
Here's a great example of an onboarding email that inspires customers to use a product. The email tells users four ways to use the software and provides a link to get even more ideas.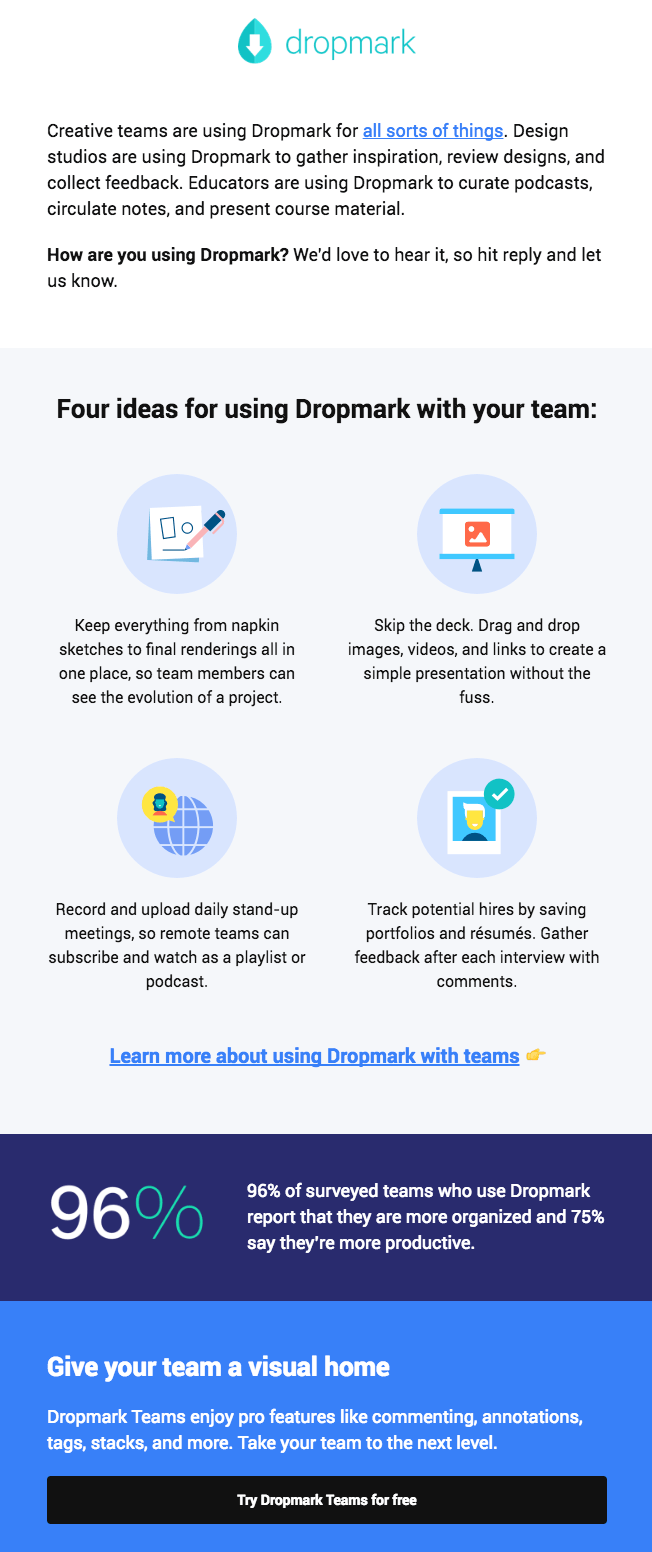 What we love about this email:
Clear design displays four ideas in a simplistic way
Statistic provides social proof that the product is helpful
Call to action button stands out
Automation tips to make onboarding a breeze

Onboarding often requires a series of emails that are sent at specific times, or when a customer completes a certain action. To monitor customer activity and send emails manually would be very time-consuming. That's why many marketers use automation to make the onboarding process easier.
Here's a look at several ways you can use automation to complement your onboarding process:
Schedule emails for a specific date and time

You could create a series of three emails that each feature an entry-level task and schedule them to send one, three and five days after a customer signs up for a free trial of your product. Automation allows you to schedule emails for specific dates and times, so you can create a series of emails, typically called drip campaigns, and schedule them to arrive over a period of time.
Trigger emails to send based on email clicks

If a customer clicks on a link in one of your onboarding emails, you can trigger another email to send to that specific customer. Let's say a user clicks on a link to a webinar that will explain how to use your product. Even if they don't sign up for the webinar, you can trigger a follow-up email for that person.
Pass email contacts into new segments

Let's say a new customer opens an email that focuses on an upgraded membership or a new product or service. When that happens, you can pass that email contact into a new segment that receives emails about paid services. It's a great way to keep track of customers that you can upsell to.
Trigger transactional emails

If a customer makes a purchase, buys a membership or upgrades their services you can automate a receipt. This kind of transactional email provides confirmation for the user and shows that your company is appreciative of the purchase.
Pinpointe users have access to all of these automation features. Check out these instructions to start sending autoresponders and turn the onboarding process into a simple, effective process.
Wrap up

By onboarding customers, you not only generate buzz about your product but also encourage customers to use it. The onboarding processes is unique for each business and varies depending on the type of product or service you offer and the makeup of your target market. While the message may vary, the tips above give every business solid advice to start onboarding customers via email. Consider using Pinpointe to create and automate your next onboarding campaign.