Changing Your Business to Fit the Ever-Changing Market of Mobile Email Marketing
When you're preparing your email marketing, mobile optimization should be an essential component. If you haven't factored mobile users into your overall marketing strategy, it's about time to make some changes. Don't worry – you're not going to have to axe your current marketing techniques. Your mobile marketing strategy won't replace any aspect of your current marketing plan, it will just add on a few elements and enhance your effectiveness and reach.
To start, we're going to explain why you really need to optimize your email marketing strategy for mobile users…
The Stats Are Staring You In The Face: Mobile Email is Gaining Prominence

In 1964, the great Bob Dylan said, "The times, they are a-changin'." Fifty years later, these famous words still hold true for email marketers. Until a few years ago, the standard has been to generate an email campaign that will capture the attention of prospective customers…prospective customers who opened emails on a desktop.
Mobile Opens Are On The Rise

There's no denying it! Litmus generated a study on mobile technology and found that in the last year alone, mobile email opens have increased from 41% to 51%1 – that's 10% in just 1 year!
That same study broke this information down by platform and reported that 47% of Outlook users open their email on a mobile device.
Now check this out…Yesmail did a study that analyzed five billion marketing emails and uncovered an interesting fact. More than twice the number of clicks within an email occur on a desktop (22.56%) compared to a mobile device (11.07%). 2
You have to wonder…is this simply because email marketers are not changin' with the times?
Get Your Email Opened (and read) On a Mobile Device

Let's be honest – creating an email campaign that has a 100 percent guarantee to covert customers into leads is a bit unrealistic, yet you can increase the chances of conversion by following these three simple tips.
Optimize Your Subject Line
Most mobile platforms will only display about 30-50 characters of the subject line depending on the size and orientation of the screen. Ensure the sender can quickly identify both your company and your reason for emailing them.
Put your Call-To Action (or something pretty DARN compelling) Into The Opening Copy
Many mobile apps for popular email clients will show a brief preview of the email below the subject line, giving your email about an additional 75 – 100 viewable characters. Make the most of the limited character availability with a strong, eye-catching headline. People who browse their email on their mobile device may be in a hurry, so only the best headlines will stand out to them.
Integrity First
Ensure your subject line and your introduction text hold the integrity of your company, avoiding the reader to classify it as spam alongside the Viagra email they could have sworn they never subscribed to. Consider opening the message with the name of a reputable person in your workforce, such as the lead salesperson, content marketer, or even your CEO.
The Next Step (with some great tips)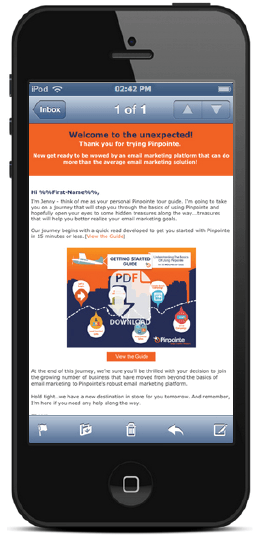 Hopefully your email now has been delivered and opened. The next task is avoiding a click on the unsubscribe button. After analyzing thousands of emails sent from Pinpointe customers, we've put together a list of tips that will dramatically increase the odds of capturing your recipients' attention and urge them to take further action.
Include text and photos as opposed to photos only. This way, mobile users who have not enabled images for your email will still get the bulk of the message.
Avoid large images. If your email takes too long to load, a customer may delete it and move on. Photos should be bold and simple to take advantage of the limited viewing space available on the mobile device.
Use a clear call to action. Some mobile apps for popular email clients will cut off an email at a certain point. If your call to action is past this point, it could be missed altogether. Also consider making your call to action clickable, highlighting the importance of it and increasing your click though rate.
Optimize your clickable links. With all links, ensure that they are large enough to accurately click on with your finger. Apple suggests that you make your clickable text at least 44px.
Keep your email short and to the point. Mobile users want to take away as much as possible in as little amount of time. Even desktop users would prefer for you to get to your point, rather than have to read a novel.
Have a font size large enough to be read on mobile. People do not want to zoom in and scroll around attempting to read your email.
Configure your information for mobile viewing. Make sure the reader can skim through it on a mobile device. Even if your email is lengthy, ensure you are using short sentences, clear headings, and identifiable bullet points.
Make your customer feel special and unique. Segment your email to allow for personalization , highlighting sales funnels, demographics, and the source of your receivers' email. This should be a consideration for both mobile and desktop users because everyone wants to feel special.
Target specific customers in various geographic regions. Personalize your email for various areas and ensure that the times you send your emails are geographically unique.
Use an email design that is mobile friendly. There are different ways to do this. First, you have responsive designs – these are email templates that adjust their sizing to fit the screen the user is viewing it upon. Then you have mobile templates that are specifically sized for mobile devices. You can see examples of mobile-friendly email template designs in Pinpointe's Mobile Email Template Gallery. Using either of these two mobile design options will save your reader from having to pinch and zoom to read your emails.
Think about using a single column layout.

This is easiest to read and navigate from a mobile device. Additionally, many responsive templates will display in this layout.

Use Mobile-Friendly Links. If you link to a page on your website from your email, whether it is a landing page, product page, or piece of content, make sure that page is mobile friendly. The last thing you want to do is create a mobile-friendly email that directs mobile users to a non-mobile-friendly web page, which can actually reduce your click-through conversions.
Do not include embedded videos in your email. They highly increase load time, simultaneously increasing the likelihood that the user will leave your email before it loads.
Remember, humans are reading your email, and most humans navigate their smartphone with their thumbs. Place your clickable elements, particularly your call to action, in places that are ergonomic for your user, specifically avoiding the lower right corner of the screen.
Always preview your email before sending. This way, you can see what it will look like to both desktop and mobile users. Pinpointe offers an inbox preview tool that allows you test your email with images either enabled or disabled across multiple devices before sending. Every Pinpointe user can easily preview their email campaign in 16+ email clients, including the top mobile email clients, with 100% accuracy in less than a minute.

Do You Have a Mobile-Friendly Website

Once a customer has read through your mobile-friendly email, they will hopefully feel compelled to click through to your website. Ensuring that your website is also mobile friendly will increase the likelihood that they act on your Call-To-Action on their mobile device.
Speed and Usability are the two main things to optimize for your…[read more about utilizing a mobile-friendly website to increase email clicks]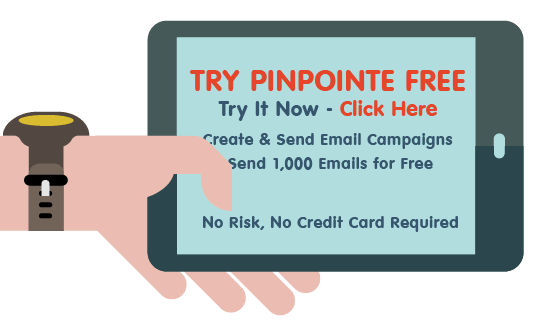 ---
Sources
Jordan, Justine. "Have Webmail Users Gone Mobile?". Litmus. 20 December, 2013.
"Study: Almost Half of Brand Emails Opened on Mobile Devices". Litmus. 19 August, 2013.
"Email Interactions Across Mobile and Desktop". Campaign Monitor.
"21 Easy Ways to Optimize Your Emails for Mobile". The 60 Second Marketer. February, 2014.
"How to Optimize Email for Mobile Devices". Blue Fountain Media. 30 November, 2013.