With inboxes filling up on a regular basis, getting a subscriber's attention is increasingly difficult. However, personalization could be the secret ingredient your email recipe needs to win over subscribers.
Customizing emails, whether through subject lines, content or timing, can significantly boost open rates, click-through rates, and conversion rates. A survey shows 90% of marketers believe personalization gives email response rates a boost, according to Marketing Charts.
The proof, however, is the metrics. Research suggests that personalized emails deliver 6x higher transaction rates, yet 70% of brands fail to do it.
Why brands hesitate to use email personalization techniques

Some marketers are hesitant to embrace personalization techniques because they believe the process is difficult or cumbersome. However, if you're using a tech-savvy email service provider, the tools you need to personalize emails are likely easy to learn and implement.
Others believe that it's too difficult to acquire enough data for customization. But any business can start by using the basic information that's collected from email registrations like a subscriber's first name or their location based on a billing address.
If your company uses social login—letting a customer sign in through their Facebook account, for example—you've probably got a gold mine of rich data. Just think about the details of a typical Facebook profile: marital status, birthday, likes, education, employment, hobbies, life events and more.
Most consumers expect that the more information they share with a company, the more tailored their emails and online experience will be. In fact, 57% of consumers are OK providing personal information on a website as long as it's for their benefit and being used responsibly.
When asking consumers for personal information, explain that it will help you better customize the content and offers they receive. It's an important message that makes a big difference to subscribers. Seventy-seven percent of consumers said they'd trust a business more if they simply explained that they were using their personal information to improve their online experience.
Once you've got some basic information, you can use the tips below to personalize emails.
5 Ways to personalize emails

Here's a look at a handful of ways to tailor emails to a subscriber's preference:
1. Personalize the subject line

If you're new to personalization, customizing a subject line, with the recipient's name, their pet's name, a relative's name or other recognizable references, is a great place to start. It's an easy technique, but it can yield some impressive results.
Emails with personalized subject lines have 26% higher unique open rates than non-personalized emails. Another study found even better results. An analysis of more than 7 billion emails sent in 2017, shows personalized subject lines (either by name, browsing history or previous purchases) generated 50% higher open rates and 2.5 times the click rates than emails without personalized subject lines
Sam's Club has perfected the technique. The company not only uses their customers' first name but also sends reminders when they might be low on previously purchased items.

2. Send offers tailored to a customer's behavior

Past purchases are great indicators of the types of products and services your customer uses, giving you inspiration for personalized emails. For example: "Since you liked this Great Dane bumper sticker, we thought you might like our new Great Dane mug."
Businesses should also track consumers' website visits, including search words, items they linger on or ask questions about, and what they put in their shopping cart (even if they don't complete the purchase).
Target goes the extra mile by sending customers personalized emails when prices decrease on items they've browsed or left in abandoned shopping carts.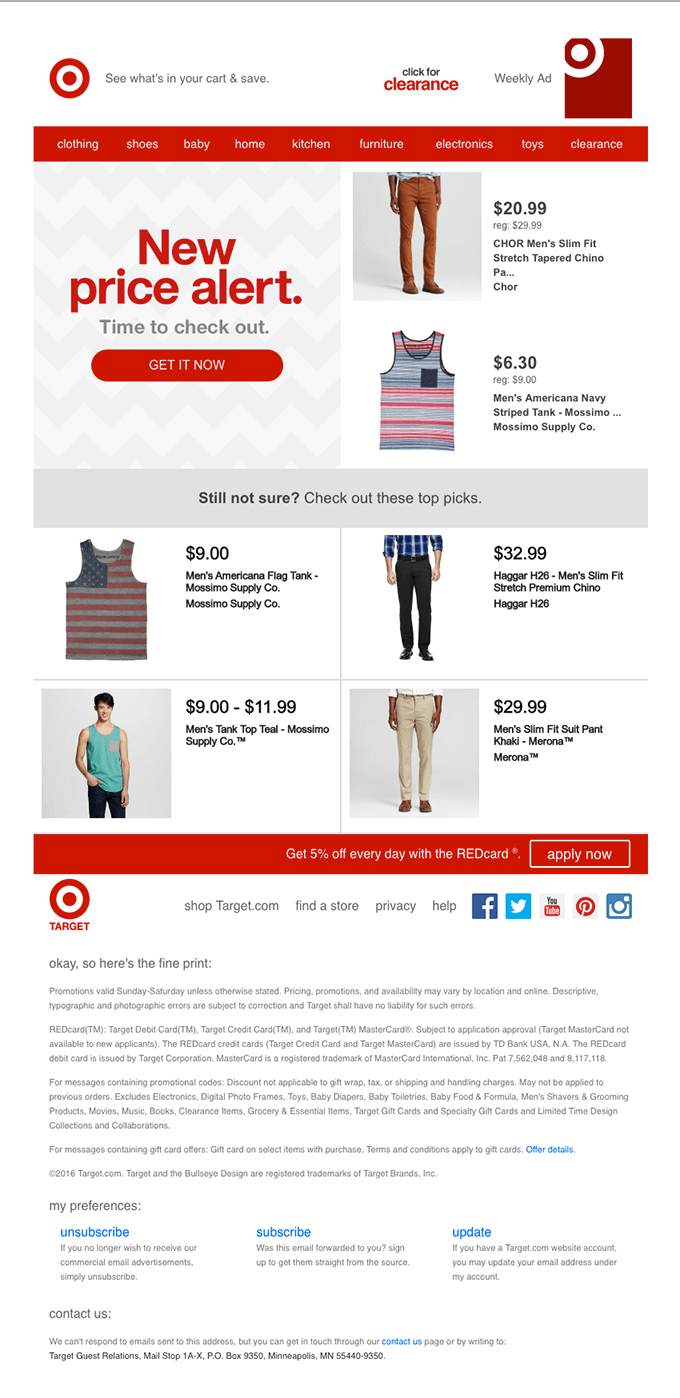 3. Tell the customer's story

Loyalty programs are great retention tools as they keep subscribers engaged with your brand.
Progressive profiling lets you look at a customer's activity over a period of time to see patterns in actions like purchases, downloads, reviews or returns.
Reflect the customer's story back to them by sending a personalized email of their recent purchase history or browsing trends.
For instance, airlines could send a list of recent trips with accrued frequent flyer miles, along with a message thanking the recipient for being a loyal customer.
A flower delivery service could send a list of upcoming birthdays for whom the recipient has purchased something in the past, along with a special offer or new product.
Starbucks sends out emails when customers have earned enough stars for a free drink or food item. These emails also give the company an opportunity to remind consumers that they have an app, which provides the convenience of pre-ordering.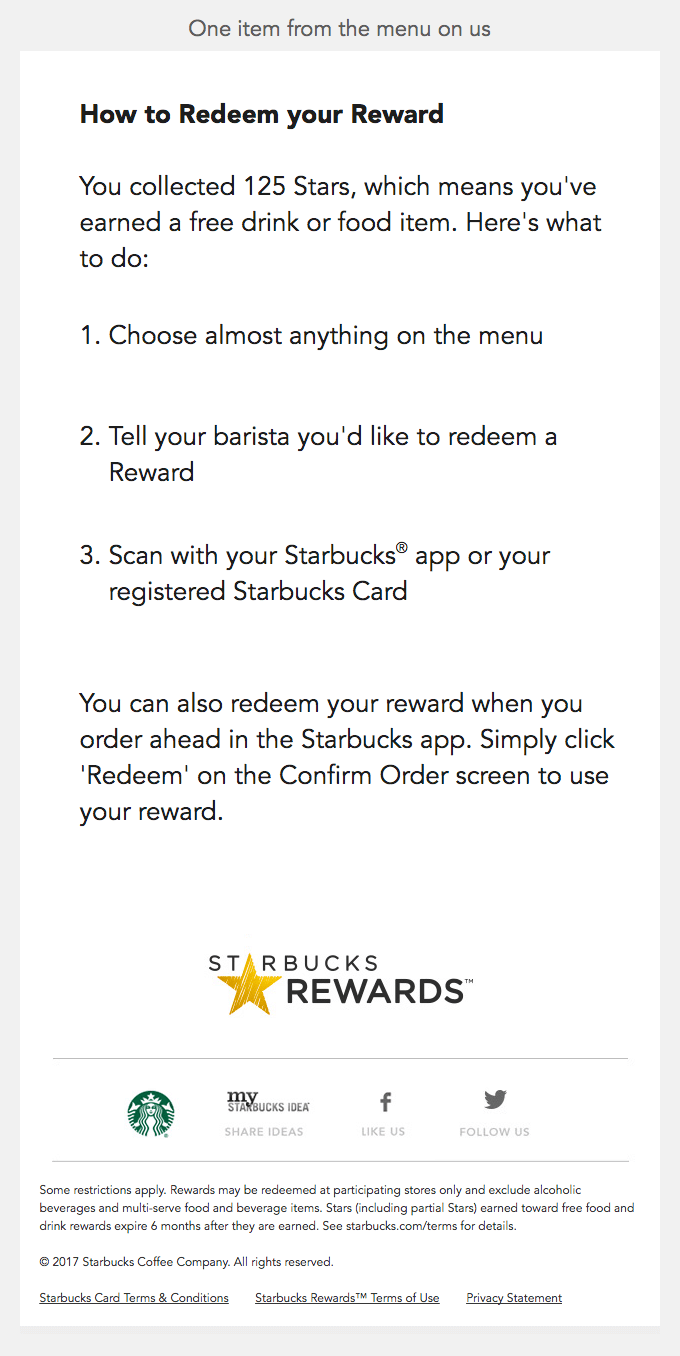 Use your loyalty program to show subscribers how involved they are with your brand.
4. Use dynamic content to send relevant information

Subscribers have a low tolerance for irrelevant emails. If you're sending emails that aren't of interest, you're in danger of losing a perfectly good lead.
Best case scenario, you lose their interest, and they simply ignore an irrelevant email or two, but eventually, he or she will hit the unsubscribe button. Seventy-four percent of online consumers get frustrated when content appears to have nothing to do with their interests.
Worse-case scenario, you lose their trust, they stop making purchases or might even bad-mouth you online. The importance of sending relevant content becomes paramount when you think of these kinds of consequences.
So, how do you send relevant emails without generating a specific email for every customer? The answer is dynamic content.
Dynamic content allows brands to save time by sending one email but pieces of the email change depending on who the subscriber is. For instance, a dynamic banner in an email could offer a local weather report that's specific to the subscriber's location. An email that offers a deal on clothing could have images that change depending on the subscriber's sex. Women receive emails that highlight their latest fashions, while men see images of their styles.
National delivery service Postmates sends out localized summaries of what other people in that city are ordering for lunch. The message dynamically changes to show orders that are relevant to a specific geographic location.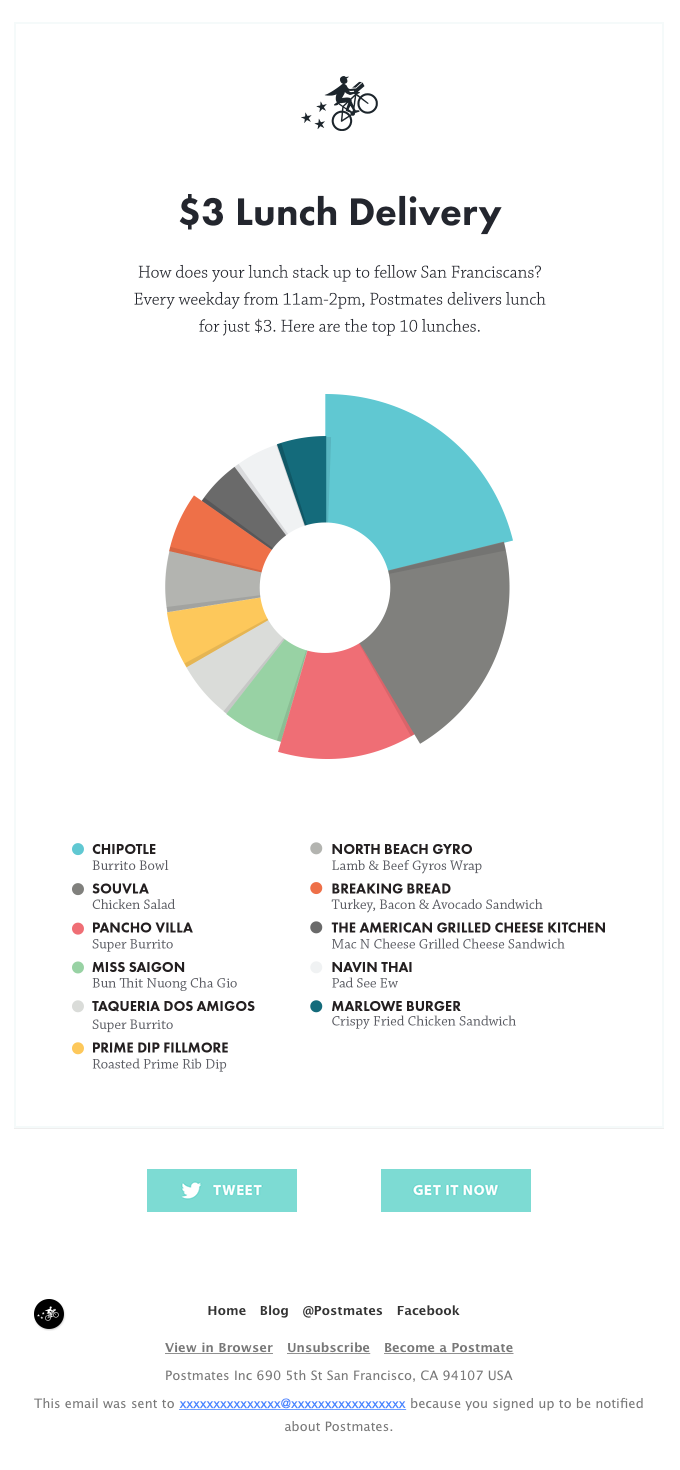 5. Send emails at the right time

You can also personalize the times that you send emails to subscribers. Take a look at your metrics and segment contacts based on their best engagement time. Use this information to schedule emails to arrive in an inbox at a time that's best for the recipient.
This could mean basing it on the day of the week. Maybe you've noticed that a customer does her shopping online Saturday night, or that she's always downloaded your software on Wednesday afternoon before a webinar.
It might be about the time of day: Is the recipient a night owl or an early riser? Headspace sent out an email promoting a feature to help people fall asleep. Of course, it only makes sense that it was sent out at night—when insomniacs are most likely to be awake. It's a good example of scheduling an email based on a specific time.
Implementing email personalization techniques

The more personalization you can implement in your email campaigns, the better. But don't feel as though you need to do everything at once. Try one thing—such as adding the first name in the subject line or changing the time of day you send your emails—and then watch your metrics to see what's working.
Keep collecting data from multiple channels to help you further personalize your emails and ensure everything is integrated. Many marketers take steps to gather customer information but fall short when it comes to using it to tailor email campaigns. So, if you have customers fill out an in-store survey, for example, make sure you use the results to build customer profiles and actually use the data to generate smart email messages.
Of course, using an email service provider that offers personalization techniques can make this marketing tactic more feasible and less scary. Pinpointe, for example, offers a host of personalization options that have step-by-step instructions to help any marketer – no matter what the skill level – through the personalization process.
Make a commitment to personalizing your next email campaign. With a little practice, you'll see your metrics rise to new levels.