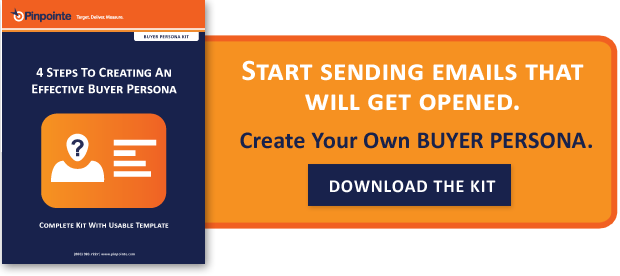 Prior to joining the Pinpointe team, I was a marketing consultant. I thought I had a pretty good grasp on how to target prospects and create content that people wanted to read; but unfortunately I was leaving out an important element that was (and still is) unquestionably necessary when driving a successful inbound marketing strategy.
About a year or so ago I was working with another marketing consultant on an email campaign and she sent me a link to view her client's buyer personas. I was a bit embarrassed to admit to my fellow marketer that I had no clue what a buyer persona was. Therefore, I set out on a mission to get to know exactly what buyer personas are why they are an absolute necessity for inbound marketers.
---
At the heart of any inbound campaign is the goal of converting a prospect into a buyer. Without buyers (or customers) a business would fail. This is obvious, right? I have always known this, but for some reason I didn't put two and two together and take the time to put a personality behind my clients' target customers. Sure, I made assumptions based on generalized questions I would ask my clients about their target market, but I missed the boat when it came to buyer personas. It doesn't look like I was alone. According to a recent ITSMA study, only 44% of marketers have developed buyer personas and a whopping 85% of them are not using them effectively.
Just in case you were like me, I'll start from the beginning and explain what a buyer persona is. The original definition of a buyer persona comes from Tony Zambito:
"Buyer personas are research-based archetypal (modeled) representations of who buyers are, what they are trying to accomplish, what goals drive their behavior, how they think, how they buy, and why they make buying decisions."
Ultimately, marketers create buyer personas to help them understand their target customers (and prospective customers), so they can create content that is tailored to their specific wants, needs and desires.
Samples of Buyer Personas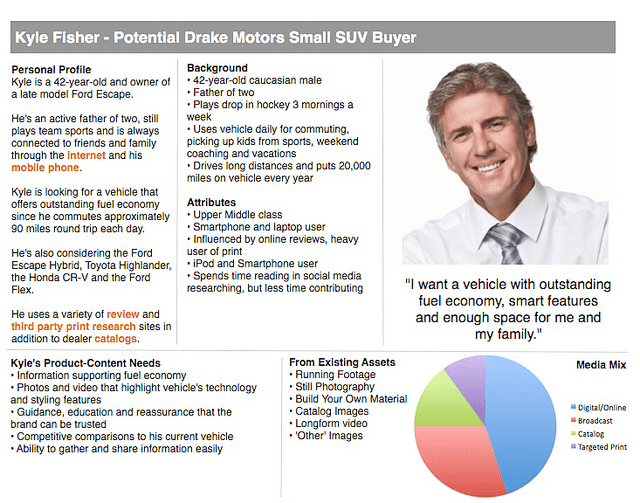 Image Source: Do's and Don'ts' When Developing B2B Buyer Personas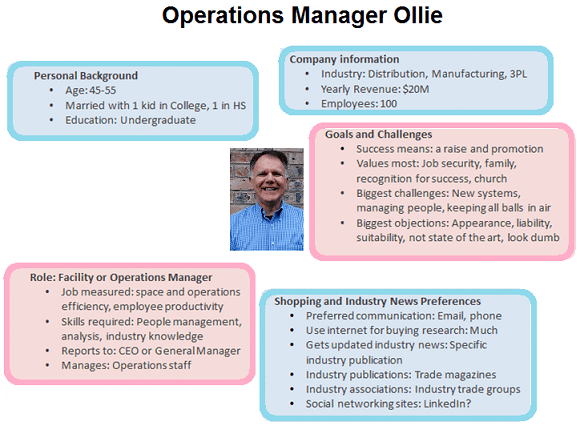 Image Source: What or Who Is a Buyer Persona
Now that you have an idea of what a buyer persona is (if you didn't already know), I'm going to explain to you why using a buyer persona – or several of them – will enhance your email marketing efforts.
If you're like most companies, you use email to send out company newsletters, notifications, event invites and special offers. Quite often, a company will blast to their whole subscriber list and, in some cases, send to segmented lists based on generic data like location, title, company size, etc. This tactic may create some good results, but they could be better with personalized content that your subscribers would want to read.
If you remember what a buyer persona is, it is a semi-fictional representation of your ideal customer based on market research and real data about your existing customers. Read that again…personas are based on market research and real data. Marketers who create emails for their buyer personas give subscribers information and offers they want to receive. Therefore the chances of a subscriber acting on your email greatly increase. This makes total sense, right?
Are you wondering now how you can create your own buyer persona? If so, you're your on your way to being a more effective marketer.
Follow these simple 4 steps to create your own buyer persona:

1. Think about your current clients and separate them out into categories based on your marketing initiatives. For an example, you may target both business and technical decision makers. Therefore, you would need to create two separate buyer personas. You many want to choose the clients that you like to work with the most and produce the most revenue for your company.
2. Prepare an interview document that contains questions that will answer the below questions. Answer as many questions as you can yourself prior to approaching your customer, i.e. if you know their job role and industry – don't ask them. You're customers are busy, so you want to use up as little of their time as possible. I pulled these buyer persona questions from HubSpot, so I have to give them their props.
Customer Questions

Role
What is your job role? Your title?

What does a typical day look like?

What skills are required to do your job?

What knowledge and tools do you use in your job?

Who do you report to? Who reports to you?

How are you evaluated
Company:
In which industry or industries does your company work?

What is the size of your company (revenue, employees)?
Goals:
What are you responsible for?

What does it mean to be successful in your role?
Challenges:
What are your biggest challenges?
Watering Holes:
How do you learn about new information for your job?

What publications or blogs do you read?

What associations and social networks do you belong to?

What information resources do you trust?
Personal Background:
Describe your personal demographics (if appropriate, ask their age, whether they're married, if they have children).

Describe your educational background. What level of education did you complete, which schools did you attend, and what did you study?

Describe your career path. How did you end up where you are today?
Shopping Preferences:
How do you prefer to interact with vendors (email, phone, in person)?

Do you use the Internet to research vendors or products? If yes, how do you search for information?

Describe a recent purchase. Why did you consider a purchase, what was the evaluation process, and how did you decide to purchase that product or service?
Our Company:
Which of our competitors did you consider before choosing our company?

Why did you choose our company?

What content would you like us to create or see more of?

What kind of offers interest you?
After you have done the prep work, connect with 6-10 of your customers for each buyer persona and ask them the questions above. Make sure you take good notes and write down any key statements they make, as you can use these items to create the best persona possible.
3. Once you have conducted a few interviews, you should start seeing some commonalities. You will use these similar answers to create your final buyer persona(s). For example if 5 out of 7 customers you interviewed were male IT Directors, ages 37-43 with 2 children, that would be included in your buyer persona. Use the outline below to construct your buyer persona(s).
Items To Include On Your Buyer Persona:



Background:
Detail the personas job role and responsibilities

Include pertinent information about the persona's company
Education, experience, hobbies, etc.
Demographics:
Gender (skews male/female?)

Age Range

Joint household income

Geographic (Is your persona urban, suburban, or rural?
Identifiers:
Key personality traits (extroverted? Reserved?)

Mannerisms

Job identifiers (Works 60 hours/week, prefers email over direct mail, etc.)
Goals:
Primary Goal

Secondary Goal
Challenges:
Biggest challenge to persona's success

Needs in order to achieve success
Value Proposition:
How your company solves your persona's challenges

How your company is positioned to achieve persona's goals
Quotes:
Include actual quotes from buyer persona interviews. These help to further represent your persona accurately as well as help your team understand them better.
Common Objectives:
What are the most common objections to your product/service from this persona?
Marketing Message:
How will you convey the value and position your solution to this specific persona?
Elevator Pitch:
This should be a simple description of your solution that everyone in your company understands.
Image:
The image should be a picture of someone that represents your persona. You can pull an image from online somewhere and use it.
Source: HubSpot
4. Now that you have all of the information put together about your buyer persona(s), you need to present it in a way that is easy to comprehend. Many companies keep their personas in PowerPoint form. Your completed persona will provide you with a composite visual of the person (or people) you need to reach. It should reveal how your buyer engages with your content and provide all the background information on how a buying decision is made.
Download our Buyer Persona Kit, which simplifies the 4 steps of creating a buyer persona and provides you with an editable buyer persona template.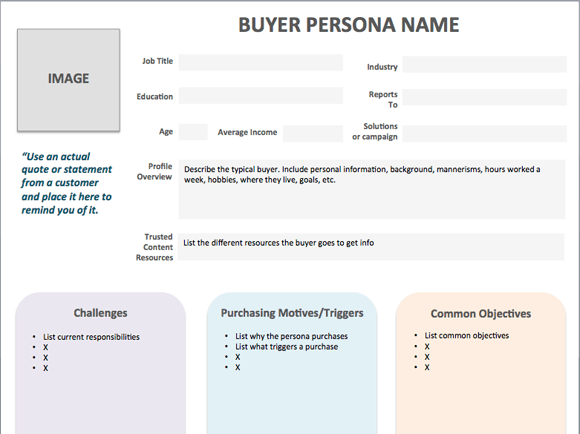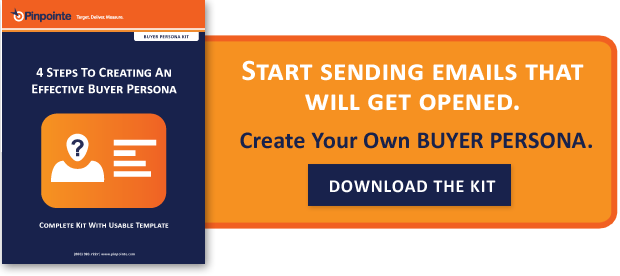 Remember to keep your buyer persona in mind in every step of creating an email campaign.