An email list is one of the most powerful marketing tools a business owner has. It's not just a list of people who might buy something from you; it's a list of subscribers that want to engage with your brand.
These subscribers want to learn about your business and build a relationship with you. The relationships that you cultivate can turn ordinary subscribers into lifelong customers.
While there's a lot of emphasis on building a social media following, research shows the value of an email list is three times higher than a list of social contacts.
So, are you ready to grow your email list? List growth is an ongoing effort. After all, your list is only as powerful as the names you collect.
To make sure you're using every avenue possible to collect email addresses, we've come up with a list of ten ways to grow your email list and give you some tools that can help you along the way.
Website ideas to grow your email list

Your website is like a digital storefront. A lot of visitors stop by, so why not give them the opportunity to engage with your business on a regular basis? Here are several ways you can use your website to collect email addresses:
1. Create a sign up form on your website
As visitors come to your site, give them the chance to sign up for your email list by setting up a sign up form. Pinpointe has specific sign up forms for your website or landing page ready to go. With a few clicks, you can design one that fits your brand and have it on your site in a matter of minutes.
It's a great way to collect email addresses on a regular basis. And the best part is, once you set it up you're set. As people sign up, the names and contact information are added to your Pinpointe account.
Here's how to create an email subscription form for your website.
2. Present your features in a popup
When visitors come to your site, help them see the benefits of your product or service with a Feature Box. In this box, you can highlight what makes your business unique and give visitors the option to get updates from your company by sharing their email address.
Here's an example:

Feature Box works with WordPress websites, it's an easy plugin that any business owner can use. Pippity Popups is also another plugin that makes it easy to create popups that convert.
3. Offer a coupon
When visitors arrive at your site, entice them to make a purchase by offering a coupon. By using an app like Wishpond, you can create a coupon and have it appear in a pop up window. In exchange for the coupon, customers must provide their name and email address.
This tactic not only collects email addresses, but could also lead to higher conversions as customers take advantage of the coupon.
4. Add an action bar
If you're not crazy about adding a pop up to your website, you can go with a less intrusive option like an action bar. An action bar is a thin bar that appears across the top of your website. It contains a little text and a call to action. For example, it might say, "Sign up for our newsletter" with a button that leads visitors to a sign up page.
A tool like Hello Bar can help you get set up. Here's what it looks like on a website: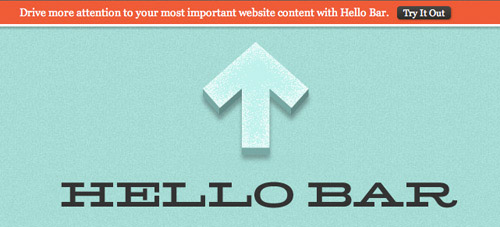 Social media ideas

You can use your social channels to collect email addresses too. Here's how to marry social and email to grow your email list:
5. Run a social contest
Consider creating a social contest to collect email addresses. You can set up something as simple as a giveaway with a winner picked at random, or something more detailed like a photo submission contest where fans vote for a winner.
Anyone that wants to participate in the contest must provide his or her email address.
An app like WooBox can help you create and manage a social contest. WooBox offers help with things like sweepstakes, photo contests, quizzes and pin to win contests.
Woobox can also create coupons for your website, so if you're interested in setting up a social contest and offering coupons on your website, this tool is the one to pick.
6. Add a Sign Up button to your Facebook page
Facebook has a series of call-to-action buttons that you can add to your page. One of the options is a Sign Up button. By setting up this button, you can direct Facebook fans to a specific sign up page on your website.
Dollar Shave Club has a Sign Up button on its Facebook page. Notice the Sign Up button next to the Like button in the picture below:

To set up the button, all you need is a URL to your sign up form. If you don't have a separate page on your site to collect emails, you'll need to set one up. You can use a tool like Unbounce to create a landing page for this purpose.
Once the landing page is ready, you can set up the Sign Up button on Facebook by following these instructions.
7. Consider trying Twitter Lead Generation Cards
Twitter has an ad option that's geared toward collecting new leads. You create an ad that offers customers an enticing deal, maybe a discount or a free trial of your product. To claim the deal, customers must provide their email address.
The ad consists of a message, an image and a call to action. It's a simple design that's easy for first-time ad users to create, and stands out when people are scrolling through their Twitter feed.
Here's what it looks like:
You can use special targeting tools to make sure the right audience sees your message. Once the ad has run its course, you can download all of your new contacts and add them to your Pinpointe account.
Traditional ideas that grow your email list

You have a lot of digital options at your disposal, but don't forget about the more traditional methods to collect email addresses too. Here are a few "old-school" ways to collect emails offline:
8. Collect emails at checkout
Have your cashiers ask customers to provide their email address at checkout. Make sure the cashier gives them a good reason to share their personal information. For example, tell customers that by providing their email address they'll receive a 25 percent off coupon as a sign up bonus.
You can also have your cashiers direct customers to an iPad to sign up for your email list. You can turn any iPad into an email collection point by using SignUpAnywhere.
This app creates a customized landing page, where you can enter your company name and logo, and collect email addresses right on the screen. Set the iPad up on your checkout counter and collect email addresses as customers checkout.
9. Collect emails at the door
On a busy weekend, have an employee set up a table near the door and collect emails from customers as they come and go. Offer them a printed coupon in exchange for their email address.
Have a little fun with it, and create an "Enter to Win" contest that gives one lucky customer a discount and a chance to shop in the store after hours without the crowds. To participate, have customers provide their name and email address.
10. Collect emails at tradeshows
A lot of business owners go to tradeshows or conferences throughout the year. If you're on the road, make sure you collect email addresses from the folks you meet. Be sure to ask them if you can add them to your email list. You want to get permission to send them your newsletters and promotions.
You can collect business cards, add contacts to your phone or use apps like FullContact to manage your contacts.
Wrap up

Remember, the best strategy to collect email addresses is a diverse one. Don't just use one method to collect email addresses, use several and rotate them throughout the year.
The tools we mentioned can help you achieve success. They're meant to help the do-it-yourselfers that don't have a marketing team at their disposal. Keep in mind, however, that the tools listed aren't free. Most of them come with a monthly fee, so be sure to evaluate the best tactics and tools for your business.
In the end, these ideas are meant to keep your email list growing, and your relationships blooming.