Writing a few sentences for an email campaign might not seem challenging, but there's an art to crafting effective copy.
When your email message is well written, it can draw up to 7.8 times more traffic to your website. That's nothing to scoff at, and yet, many marketers are in such a hurry to get emails out that they spend little time thinking about word choice, placement or their audience.
To help time-strapped marketers create emails that are effective, here are ten advanced email copywriting tips to follow:

1. Solve a problem

People buy solutions, not products. No one wants a plunger—they want a way to fix their toilet when it gets stopped up. Write your copy to help the reader understand how your product or service will save them time or money, or generally make their life easier.
Solving a problem also requires your recipient to trust you, that is, believe that you're an expert on the subject.
The Black Tux, an online suit rental company that partners with Nordstrom's, does a great job of solving several problems in its e-newsletter, "Well Suited." Using a mix of short, punchy copy, images and video, they provide expert tips on:
What to Wear When There's No Dress Code
How to Talk to a Tailor
Why You Shouldn't Wear a Matching Bright Tie and Vest
When in doubt, talk about the benefits of your product or service, not the features. It's great that your vacuum is bagless, but it's better to point out that bagless vacuums don't lose suction.
2. Focus on one point

Don't try to cram your new product announcement, free shipping promotion, and upcoming webinar into one email. Choose a topic and stick to it. It's better to send multiple emails than to try to squeeze everything into one, which not only overwhelms subscribers but also dilutes your messaging.
JAM, a business that offers online courses for kids on topics like cooking, building with LEGOs and drawing, knew that last-minute Christmas shoppers would be looking for gifts that could still be delivered on time. The company sent out an email focused solely on gift certificates available for online courses for kids, offering a printable certificate so that the gift-giver could have a physical item to present on Christmas.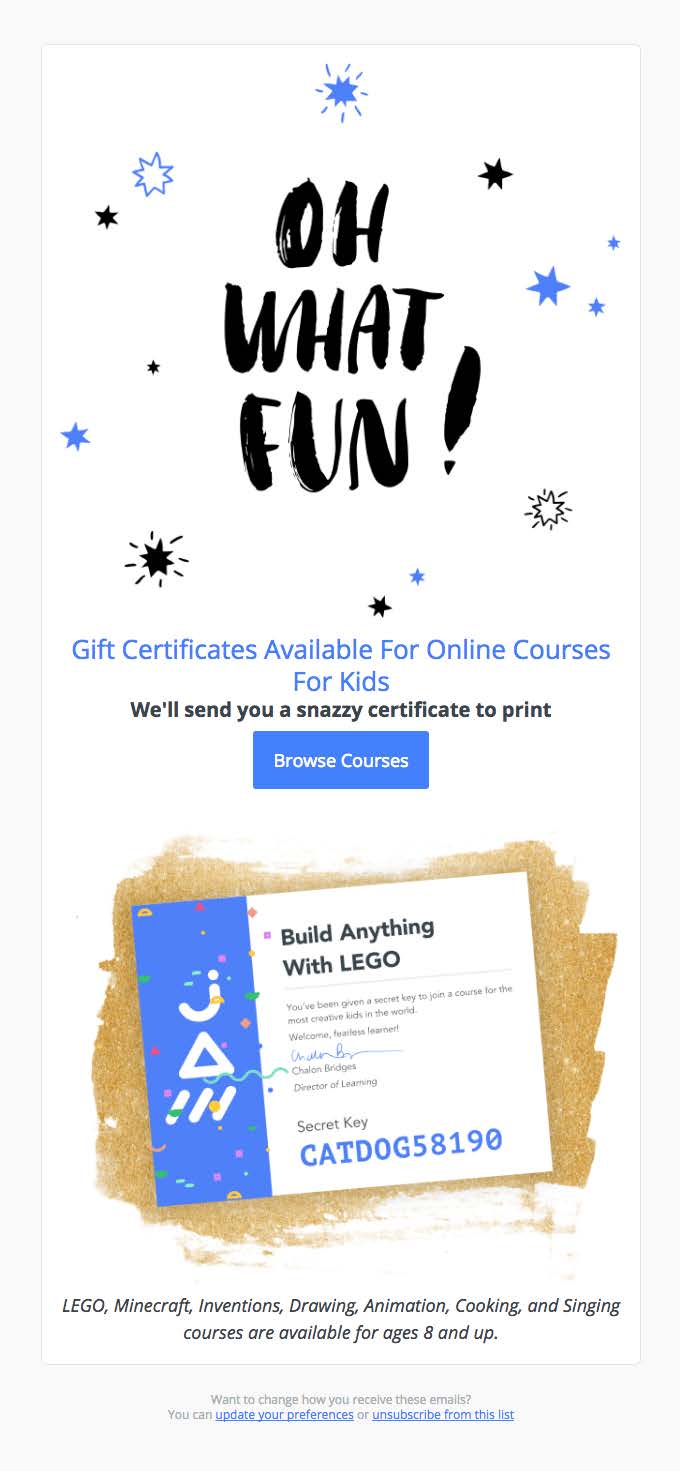 If JAM had crowded the email with other promotions or information, the idea of a printable gift might have gotten lost; leading recipients to believe it was just another solicitation for an e-gift certificate.
3. Set a deadline

Email copy should compel subscribers to act instantly. Once they've read your message, you need them to click and convert. To do that, give subscribers a deadline.
Every sale should have an end date and every coupon should have a quick expiration date. The idea is to get subscribers to act fast so they don't miss the deal. Mention the deadline in your subject line and again in the copy.
You could even send a second email as a "last chance" to take advantage of the sale or coupon.
Here's a great example from Bath and Body Works. This is the second email sent about this deal and the deadline is clear at the top of the email.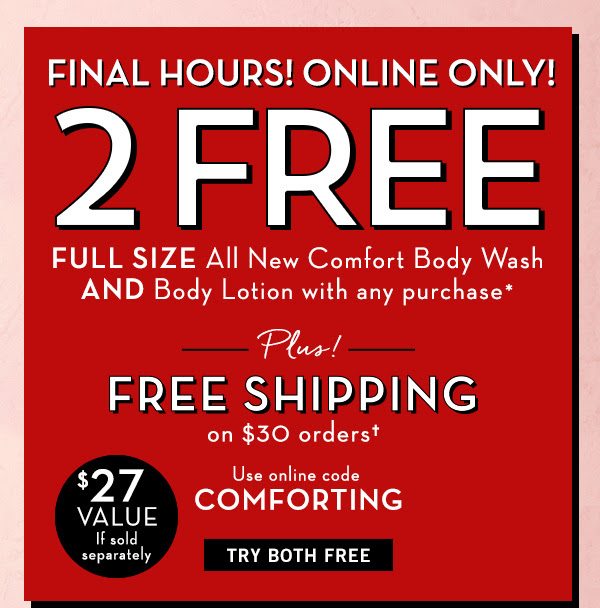 4. Talk to the reader

Just as you don't want to get stuck in the corner at the dinner party with the guy who only talks about himself, no one wants to read copy that's full of "me," "we" or "I."
Instead, use "you" to make the reader feel engaged in the copy. Think of it as a respectful conversation in which it's your turn to talk about something that (hopefully) interests you both.
Using "you" in the copy also forces you to think about the customer as you write, which will make your messages stronger and more relevant.
5. Stop pushing your brand

When Saturn first starting selling cars, it touted "no-haggle" pricing. The novel approach was welcome to many because it removed the "hard sell" of the stereotypical used car salesman from the picture.
The same approach should be taken with your email copy. Skip the hard sell, create great copy and simply add your logo.
Shaving company Harry's successfully pulled off this approach in a St. Patrick's Day email. The copy that accompanied the video only mentioned Harry's by name once, and that was simply to say, "Happy St. Patrick's Day from all of us at Harry's."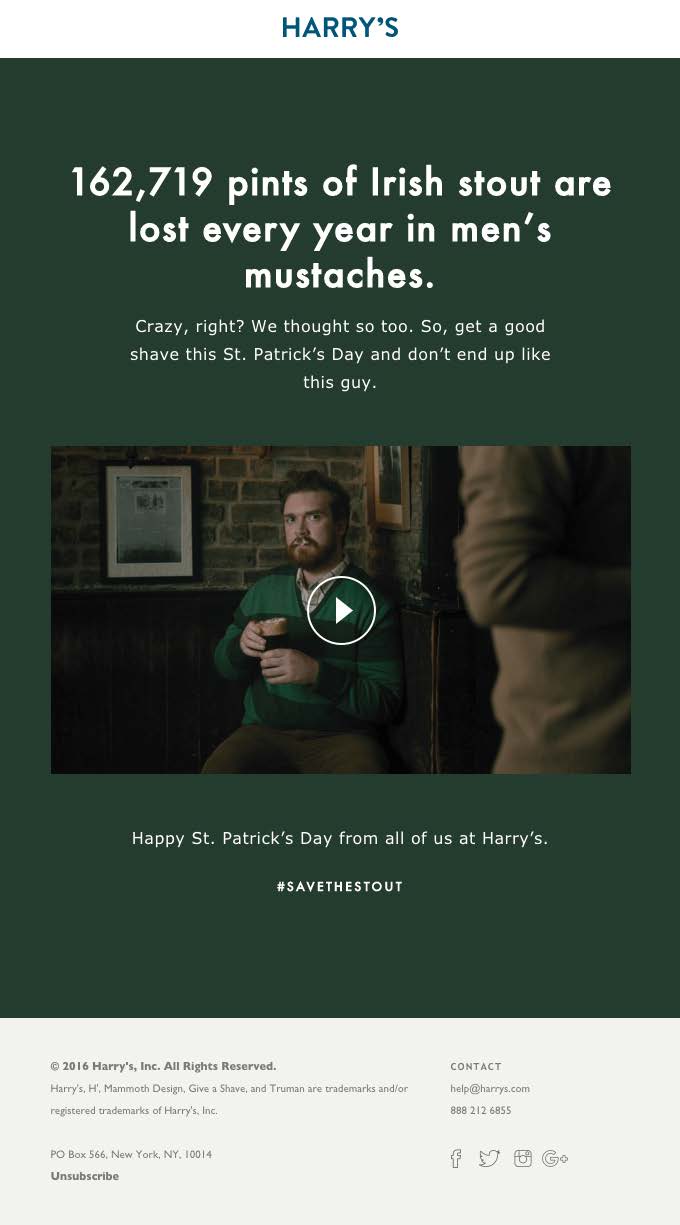 Don't worry that subscribers might not know who or what you are if you don't hit them over the head with your brand. Curiosity will give them a reason to click and learn more.
6. Don't overpromise

In an effort to sell products, brands sometimes overpromise. They exaggerate a product's features or use phrases like, "Guaranteed not to break."
If you make a promise that you can't keep, customer retention will suffer and word of mouth could negatively affect sales. Dishonesty will be a disaster for your company; no one does business with someone they don't trust.
Be honest and realistic with your subscribers. Period.
7. Format for scanners

Assume that everyone reading your email is incredibly busy and won't read every word of the text. Use headlines, subheads and very short blocks of text, or better yet, bullet points, to get your point across to skimmers. Put your most important message first and use boldface to draw attention to other important messages.
Remember, your copy can always include links to longer pieces, which gives the email a cleaner look and the reader the option to click to read more.
Paul Boag writes copy using short paragraphs, colorful headlines and linked text for recipients who want to read more on a topic. In this end-of-year email, he immediately gives readers an option to skip something that might be irrelevant to them by addressing the target readership in the headlines:
If you work in-house
If you run your own digital services business
It's a great way to format an email with the subscriber in mind.

8. Kill your adjectives

There's a reason Mark Twain advised writers to "kill your adjectives." They make content fluffy and tend to slow things down for the reader.
Instead of clogging your copy with descriptive overkill, offer the basics and then provide links for readers to further explore the products or services.
Vacation Rentals by Owner (VRBO) has had success using a simple headline, two lines of copy and then category choice—rather than lots of description—over clickable images. For example:
HEADLINE: Find the best retreat for your besties
COPY: Summertime means time off for grand adventures with great buddies! Be your pack's leader and plan the perfect group getaway now.
CATEGORIES: Fewer than 10 people; 11-15 people; 16-20 people; More than 20 people
Here's another example of this style form VRBO in which they use pricing limits to invite click-throughs on the images.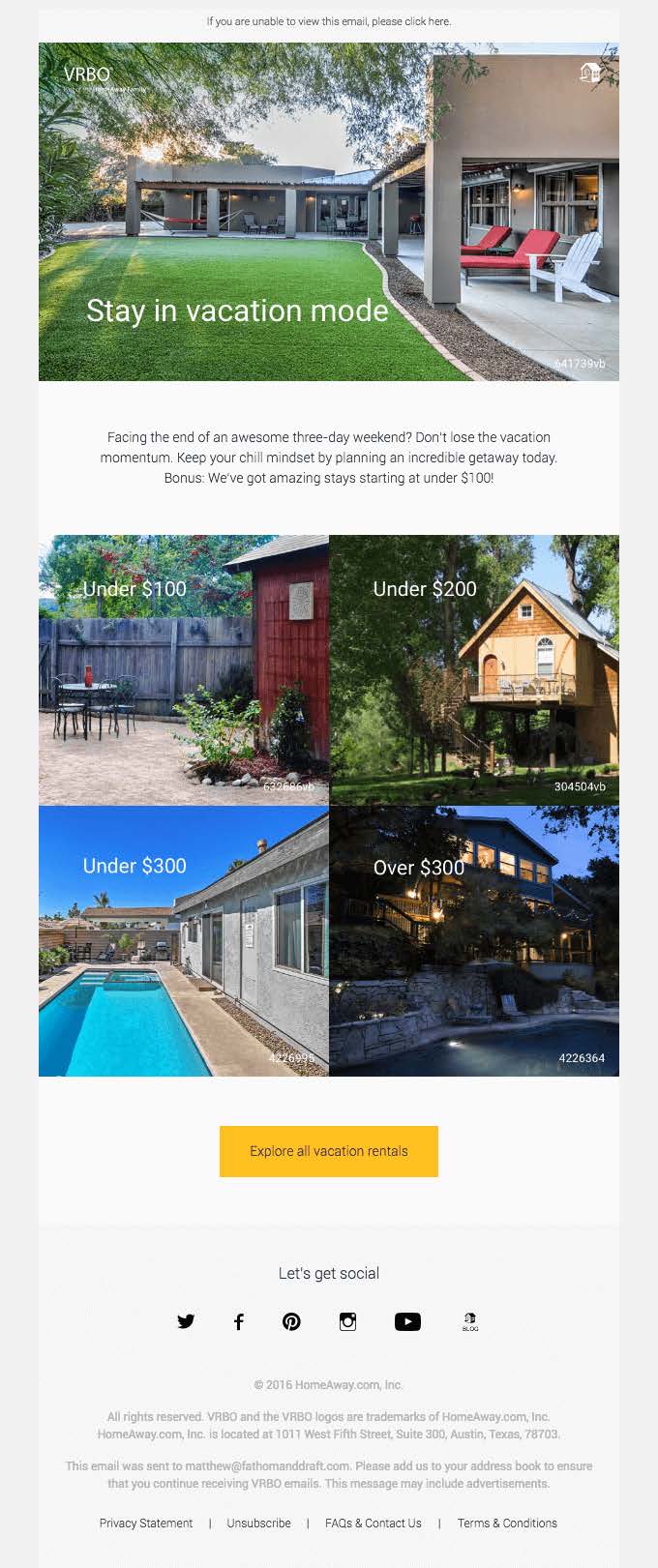 Even if the recipient wasn't planning a vacation, who wouldn't at least be curious to see what you could get for under $100?
9. Avoid clichés

Clichés are overused. They're typically vague phrases that don't add any value to your copy, so it's best to avoid them altogether. Phrases like those below are all too common. Make sure you leave these out of your next email:
• "Are you sick and tired of …"
• "Play your cards right …"
• "Grass is always greener …"
• "Every cloud has a silver lining …"
• "Good things come to those who wait …"
• "Think outside the box …"
• "Better safe than sorry …"
• "Stop and smell the roses …"
• "Take the bull by the horns …"
• "When the going gets tough …"
10. Avoid the exclamation point

Marketers tend to believe that everything they say is exciting, which is probably why they overuse the exclamation point. Used sparingly, the exclamation point can show enthusiasm, but most of the time it's just unnecessary.
Your email copy should mimic a conversation, so unless you're the type that runs around yelling all the time, you should stick with normal, conversational punctuation like a period.
With these ten email copywriting tips, you can create compelling emails that subscribers will love. Remember, sending a quality email with a great message is more effective than creating sloppy copy in an effort to get an email out quickly.