Build a "Digital Footprint" of Each Contact
Every time a contact in your list receives and/or opens an email campaign or trigger-based autoresponder, or when they click a link in your email, that action is logged automatically in the contact's profile.  Over time – the accumulated 'digital footprint' for each contact can be used to improve targeting in future campaigns.
When sending emails, you can target segments based on the collected behavioral information. For example, use prospects' digital footprints to send a targeted email to only those people who opened a specific email campaign or clicked on specific links.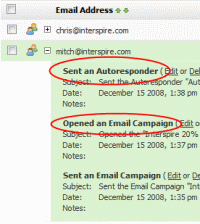 Automatic Event Logging
You can see a complete history of every email they've received, which links they clicked and when they opened your emails.
Manual Event Logging
Using the built-in event logging system you can quickly and easily log events such as phone calls and meetings next to contacts in your list.  Each user can define their own event types and follow up reminders can be added automatically.
Google Calendar Integration
Pinpointe has full support for your Google calendar. Easily add follow up reminders to your Google Calendar simply by clicking the "Add to Google Calendar" icon next to any date field when editing a contact's details.